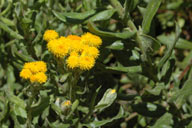 Chrysocephalum semiamplexicaule
click for larger image
Pots outside the Visitors Centre contain such colourful flowers which include the deep purple fan flowers of Scaevola phlebopetala. Another pot edging Banks Walk contains Scaevola ramosissima with fan flowers a shade lighter. However the purpose of this walk is to view the flowers in the Rock Garden. To arrive there follow the road edging the far side of the Rainforest where the large bulbous plants, Crinum pedunculatum [Section 125] bears its spray of open white flowers atop a long upright stem surrounded by long strappy leaves. Turn right at the connection of the Main Path which will reach the Rock Garden waterfall, passing the large dense shrub clad with many cream-green flower spikes of Banksia aemula [Section 15c] and in front of the waterfall, emu-bush, Eremophila latrobei var. latrobei [Section 15v] displaying its cerise coloured tube flowers over the upright open shrub.
Take the path in a clockwise direction where Hibbertia pedunculata [Section 15c,15d] with bright yellow flowers over the dense small shrub, crowds between the rocks and Isotoma axillaris [Section 15d] displays its showy white flowers surrounded by soft open foliage. Grevillea 'Poorinda Royal Mantle' [Section 15d] is a dense groundcover with dark red toothbrush-like flowers scattered about the foliage as it flows down the rockface while opposite, Banksia integrifolia subsp. integrifolia [Section 15c], so dense with many pencil-thin spikes and more mature green-gold flower spikes creeps towards the path.
Chrysocephalum semiamplexicaule [Section 15d] has clusters of bright yellow and orange flower heads on long wavering stems and Calostemma purpureum [Section 15d,15b] a bulbous plant, has heads of pink trumpet-like flowers on upright stems surrounded by its strappy leaves. Closes to the stream Banksia blechnifolia [Section 15d] is a prostrate, yet not flowering shrub with upright indented leaves colourful with its new bronze leaves. In front Solanum sturtianum [Section 15g] is a slim upright shrub crowned with deep purple, yellow centred open flowers. Grevillea albiflora [Section 15g] is a tall shrub noticeable with small furry fruits crowning the branches. Opposite Beaufortia decussata [Section 15f] has an array of red bottlebrush flowers which brightens the garden bed. Vanilla lily, Arthropodium milleflorum [Section 15h] has strappy leaves and long slender stems bearing small white flowers. Ascending the stairs Grevillea 'Mason's Hybrid' [Section 15h] reveals its lovely pink-cream terminal flower spikes on the ageing spreading shrub. At the top of the stairs Grevillea lanigera [Section 15h] is a dense prostrate plant profuse with red-cream spider-like flowers.
From the top road a scattering of straw flowers, Xerochrysum bracteatum [Sectopm 15h] displays the bright daisy-like yellow flowers. Scaevola albida var. albida [Section 15h] bears both white and mauve fan shaped flowers over the small plants. Dampiera sylvestris [Section 15h] is a suckering upright plant displaying its blue flowers through other plants.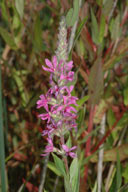 Lythrum salicaria
click for larger image
Take the path down between grass trees, Xanthorrhoea johnsonii [Sections 15 and 14]. Towards the stairs, Senecio linearifolius var. dangarensis [Section 15r] is a tussocky upright shrub capped with yellow flowers and emu bush, Eremophila bignoniiflora [Section 15r] is an open shrub of medium size decorated with white bugle shaped flowers. At the lower level Crowea 'Festival' [Section 15s] is colourful with its deep pink star shaped flowers and close by Thryptomene denticulata [Section 15s] is low with angular branches clad with tiny pink flowers.
The beauty of the waterfall, the shades and shapes of the accompanying plants and the bright pink flowers of Lythrum salicaria [Section 15q], not forgetting the many tiny to large waterdragons sunning on the rocks is so relaxing also the tiny blue or brown wrens dancing across the path.
Certainly another great area of the Gardens … Barbara Daly.