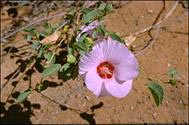 Gossypium sturtianum
click for larger image
The lovely Rhododendron lochiae with red bells are continuing to flower outside the Visitors Centre doors. Likewise Brachyscome multifida with small mauve daisy-like flowers, also in a pot. Flowers edging Banks Walk include Hibbertia vestita [Section 210,174] with their bright yellow open flowers over a dwarf shrub and the edging of Pelargonium rodneyanum [Section 174] bright with its magenta flowers.
This walk, however, is to view flowers of the Mallee Species of South Australia and Western Australia seen above the old nurseries. On the way view the Swamp Lilies, Crinum pedunculatum [Section 125] seen from the road edging the Rainforest. They are large bulbous plants with upright leaves surrounding the long thick stems of sprays of white flowers. When passing through the section of wattles, Acacia parvipinnula [Section 18], a tall shrub with soft much divided leaves and perfumed cream fluffy flower balls.
At the base of the old nursery, the Darling Pea, Swainsona galegifolia [Section 69] is an upright plant bearing long sprays of mauve-pink pea shaped flowers. Edging the road upwards groundcovers include Chrysocephalum apiculatum [Section 300] with clusters of small orange-yellow flower heads and Brachyscome multifida 'Breakoday' [Section 300] with small daisy-like mauve flowers. In the opposite garden, the floral emblem of Northern Territory, Sturt's Desert Rose, Gossypium sturtianum [Section 100b] presents its hibiscus-like purple-mauve flowers. Correa reflexa [Section 100b] is a dense rounded shrub with yellow tube shaped flowers. A groundcover, Rutidosis sp. [Section 100b] is dense with small button-like yellow flower heads. Opposite, Eucalyptus lansdowneana [Section 300] has a long lanky trunk tipped with clusters of cherry-pink fluffy flowers.
At the corner of the West Mallee Section emubush Eremophila weldii [Section 100b] is a low spreading shrub with branches crowded with tiny leaves and small purple tube shaped flowers. Eremophila warnesii [Section 100b] is almost a prostrate plant with thick grey hairy stems and leaves and large purple bugle shaped flowers. The deep blue flowers are those of Halgania anagalloides var. pressiana [Section 100b]. Taking the boardwalk in an anticlockwise direction, Eremophila christophorii [Section 100a] has small mauve bugle shaped flowers on this open upright plant. At its base Hemiandra pungens [Section 100a] is a prostrate plant with bright pink flowers along its trailing stems. Billardiera lehmanniana [Section 100a] is a dense twining vine displaying small white star flowers while beside is Lechenaultia biloba [Section 100a] displays its pale blue flowers on short upright stems. Behind the Blue Grass Lily, Agrostocrinum scabrum [Section 100a] has short strappy leaves crowding the lovely blue star flowers. In the valley Grevillea dielsiana [Section 100a] reveals its pendulous clusters of orange flowers among the prickly foliage. Eremophila bignoniiflora x polyclada [Section 100b] has long rambling branches with large bugle-shaped flowers coloured pale mauve with speckled throat.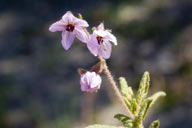 Thomasia petalocalyx
click for larger image
At the curve Thomasia petalocalyx [Section 100a] is a dense shrub clad with small downturned pink flowers. Passing the curve, Banksia epica [Section 100a] rises above other shrubs, displaying many small green juvenile flower spikes and a large yellow-green mature upright cylindrical flower spike. Also, behind other shrubs but visible, Banksia ornata [Section 100a] displays its rust coloured juvenile flower spikes and its mature yellow-brown flower heads. Astartea sp. [Section 100c], close to the boardwalk, is a slim upright shrub covered in profusion with white petalled flowers. At the exit of the boardwalk, Lambertia ericifolia [Section 100c] is a large many-branched shrub bright with its uniquely designed orange tubular flowers.
Just a small selection of flowers … Barbara Daly.