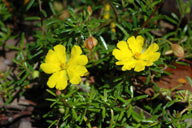 Hibbertia pedunculata
click for larger image
Because of these really hot days, this walk is short, finishing up in the cool Rainforest. To start, in the northern car park, Angophora costata subsp. costata [Section 168] with trunks of orange tones, is clad with its clusters of fluffy cream flowers. Worth viewing too, is a small forest of NSW Christmas trees, Ceratopetalum gummiferum [Section 142] well covered with its waxy orange-red calyces which followed after the small white flowers. (Because of maintenance viewing is satisfactory from the low carpark.)
Outside the Visitors Centre, our native Rhododendron lochiae has an abundance of its bell shaped salmon coloured flowers. Opposite, the dense vine climbing up the wall is that of Pandorea jasminoides, with flowers coloured pink with maroon centre.
Edging Banks Walk, kangaroo paws flourish, with colours varying from Anigozanthos 'Bush Haze' [Section 210] with yellow-green tones to Anigozanthos 'Bush Sunset' Section 210] with dusky red tones. Kangaroo paws flower in many sections of the gardens. Opposite, the walk is lined with Pelargonium rodneyanum [Section 174], small trailing plants with magenta coloured flowers.
Cross the bridge past the café where Hibbertia pedunculata [Section 131] is a dense semiprostrate plant with bright yellow flowers. Opposite the dense medium size shrubs are Crowea 'Cooper's Hybrid' [Section 240] with a profusion of small pink star shaped flowers. Taking the next path on the right to view Grevillea diminuta [Section 239] an ageing open shrub with pendulous threads of rust coloured flowers. Close by, to the right, Eucalyptus ficifolia [Section 240] is yet a small shapely tree with many buds just maturing to lovely orange fluffy flowers.
Returning to the path uphill at the end of the building where a bottlebrush, Callistemon 'Splendens' [Section 10] reveals few red bottlebrush flowers over the medium size shrub. Groupings of kangaroo paws, Anigozanthos flavidus [Section 127] are dense with their matt green flower heads. Just past the grand old Pryors Eucalyptus mannifera [Section 10] with large white branches, fenced in for preservation, to an area of emu bushes which include Eremophila polyclada [Section 302], a small open shrub with white bugle shaped flowers and behind, Eremophila calorhabdos [Section 302] a rather tall upright shrub with short leaves hugging the branches and cherry red tube shaped flowers towards the tips.
Cross over the Brittle Gum Lawn, edged with Grevillea 'Robyn Gordon' [Section 109] a low spreading shrub displaying its large terminal red-cream flower heads and Hibiscus pedunculatus [Section 109] with many branches pretty with its soft pink flowers. Turning right following the path edging the Rainforest Hibiscus heterophyllus [Section 114] is a tall shrub with large red edged white flowers while Hibiscus divaricatus [Section 114] has bright yellow flowers.
Enter the Rainforest where Conjevoi, Alocasia macrorrhizos [Section 114] with large 'elephant ear' shaped leaves on long swollen stems and a green hood-like flower encircling a long yellow style. Follow the Main Path passing a Coachwood,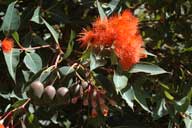 Eucalyptus ficifolia
click for larger image
Ceratopetalum apetalum [Section 145] tall with, up high, many clusters of white flowers. Edging the path to the bridge, Tripladenia cunninghamii [Section 145] is showy with its open pink flowers. Then, when the path divides with steps down to the stream, Dorrego waratah, Alloxylon pinnatum [Section 147], a small tree displays its red waratah-like flowers now level with the path. At the bottom of these stairs edging the stream, the Stream Lily, Helmholtzia glaberrima [Section 144] with long flax-like leaves displays its long 'feather duster-like pale pink flower heads. This path in the cool refreshing environment leads back to the café.
A pleasant walk even on a very hot day … Barbara Daly.