---
---
In Flower this Week
sA weekly news sheet prepared by a Gardens' volunteer.
Numbers in square brackets [ ] refer to garden bed Sections. Plants in flower are in bold type.
4 December 2009
Following this road, just past the café building, Homoranthus flavescens [Section 128] covers its low layered branches with yellow flowers while opposite in the Rainforest verge, Clerodendrum floribundum var. attenuatum [Section 125] is a large shrub with sprays of cream buds followed by white tubular flowers. A log bearing orchid plants, Cymbidium suave [Section 125] with low arching strappy leaves and sprays of small olive green flowers. A corner of Grevillea 'Poorinda Royal Mantle' [Section 124] a dense groundcover speckled with dark red toothbrush-like flowers. Further along Grevillea 'Goldfever' [Section 124] has apricot coloured flowers over this almost rounded small shrub. Nearby, Melaleuca thymifolia [Section 124] has soft feathery white flowers crowning the medium upright plant. There are many large dense shrubs seen in the rainforest from this road which include the Native Elderberry, Cuttsia viburnea shrubs [Sections 125,114] with shiny toothed leaves and, in profusion, large clusters of small white fragrant flowers.
Few flowers edge the Brittlegum Lawn. They include Grevillea 'Robyn Gordon' [Section 109] a low spreading shrub bearing many terminal red-lemon flowers and a tree, Grevillea robusta [Section 107], seen better later. Returning to the road, Hibiscus divaricatus [Section 114] has showy yellow flowers among its narrow leaves while Hibiscus splendens [Section 114] has larger velvety leaves and large buds which open to large pink flowers as seen further on. Just before the Main Path crossing there is a Queensland frangipani, Hymenosporum flavum [Section 114] is a tall open shrub decorated with few white and many yellow open flowers.
Across the Main Path is a patch of native violets, Viola hederacea [Section 104] a dense groundcover profuse with small white with mauve centre flowers on small upright stems. Towards the following curve in the road is a small path leading in to view Gymea Lillies, Doryanthes excelsa [Section 105] with long strappy leaves and on top of an extended stem, a large cluster of red flowers. Close by is Grevillea robusta [Section 78] a tall tree with branches close to the ground where its long gold toothbrush-like flowers can be viewed. The nectar of these flowers is enjoyed by the bird life who drop the remains on the ground.
The small triangular garden usually contains a multitude of colourful flowers. There are many kangaroo paw plants all with strappy leaves, which include Anigozanthos 'Bush Haze' [Section 17] with red stem and yellow flowers, Anigozanthos 'Bush Dawn' [Section 17] with green stem and yellow flowers and Anigozanthos 'Bush Ruby' [Section 17] with deep red flowers on red stem. Much taller is Anigozanthos flavidus [Section 17] with matt green flowers and with salmon red flowers. They make good viewing. There also is a Geraldton Wax, Chamelaucium 'Cascade Brook' [Section 17] a medium size shrub clad with pink waxy flowers. Chrysocephalum apiculatum [Section 17] is a low suckering plant bright with clusters of small yellow flowers. Brachyscome 'Roulette' [Section 17] with small purple daisy-like flowers edge the road. Dampiera stricta [Section 17] is a small suckering herb with upright branches clad with bright blue flowers.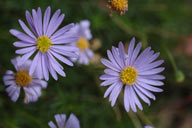 Brachyscome multifida 'Roulette' - click for larger image
Crossing into the rainforest, a bottlebrush, Callistemon montanus [Section 104] with bright red flowers leans towards the road and which is well covered with Wombat Berry, Eustrephus latifolius [Section 104]a vine dense with tiny pale blue flowers. While up here, a view of Banksia speciosa [Section 36] with many large wandering branches clad with narrow deeply toothed grey-green leaves reveals its many yet green flower spikes which will mature to cylindrical yellowish flower spikes often resembling acorns could be worthwhile.
Returning could be via the Rock Garden or through the Rainforest.
A pleasant walk … Barbara Daly.
---
---