---
---
In Flower this Week
sA weekly news sheet prepared by a Gardens' volunteer.
Numbers in square brackets [ ] refer to garden bed Sections. Plants in flower are in bold type.
20 November 2009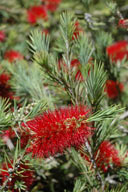 Callistemon subulatus - click for larger image
This walk follows the Main Path which passes through areas of the lovely gum trees, the Sydney Basin Flora, the Rock Garden and the Rainforest with many flowering shrubs between. Flowers are many from the Visitors Centre to the Ellis Rowan Garden from where this walk commences.
The walk starts with a display of Kunzea ambigua [Section 12], a dense low shrub with its arching branches clad with fluffy white perfumed flowers. Behind, somewhat taller, a bottlebrush, Callistemon subulatus [Section 12] with deep red bottlebrush-like flowers on its arching branches and behind Callistemon pallidus [Section 12], a much taller shrub with deep lemon smaller bottlebrush flowers. A tea-tree, Leptospermum 'Aphrodite' [Sections 11,10] displays first of few branches with its green centred pink petalled flowers then view the rich pink flower clusters of Melaleuca fulgens 'Hot Pink' [Section 11]
A grouping of grass trees, Xanthorrhoea glauca [Section 8] with dense green skirts and one with a long upright spike now clad with tiny white flowers while opposite in a garden of daisies which include Chrysocephalum apiculatum [Section 303] with clusters of tiny yellow flowers and Podolepis robusta [Section 303] with frilly edged yellow flowers on longer stems. Feather Flower, Verticordia plumosa [Section 30] is a small upright plant clad with feathery pink flowers, surrounded by Homoranthus flavescens [Section 30] a spreading shrub with layered branches of yellow flowers. Opposite, Verticordia galeata [Section 30] is a small rounded shrub dense with yellow feathery flowers.
Across the next road Banksia blechnifolia [Section 26] is a prostrate shrub with underground branches, its leaves are upright, deeply lobed and now with its pink to red flower spikes appear to be sitting on the ground. ( Can also be seen behind the later double seat.) Grevillea 'Bonfire' [Section 24] is an attractive upright shrub well clad with lovely curvaceous waxy red flowers among its soft green foliage, seen either side of the seat. Close to the next road, a waratah, Telopea speciosissima [Section 26] a fairly small shrub displays its renowned red flower spikes above the foliage and the Native Fuchsia, Grevillea wilsonii [Section 26] is a low spreading shrub with brilliant cherry coloured flower heads.
Follow the curvaceous path through the Sydney Region Gully the group of tall shrubs clad with yellow pea-shaped flowers are that of Jacksonia scoparia var. scoparia [Section 191h]. At the look-down, Leptospermum sp. has willowy branches of white petalled flowers and Hibbertia diffusa [Section 191s] is a prostrate plant bright with yellow flowers. Epacris longiflora [Section 191p] is an upright, rather straggly shrub with long white tubular flowers, well arranged towards the branch terminals. Hibbertia pedunculata [Section 191j] is also a dense prostrate plant with many yellow flowers. At the corner where the path continues to the Hot House displaying orchids, a grouping of Black-eyed Susan shrubs Tetratheca thymifolia [Section 191j] has pink downturned flowers. In the adjacent corner Leptospermum rotundifolium [Section 191e] is of medium size with attractive pale pink flowers. Sydney Flannel Flowers, Actinotus helianthi [Section 191u] has soft felt-like silver-grey leaves and white daisy-like flannel flowers. Behind the circular seat, Prostanthera porcata [Section 191u] displays its pink tube flowers on the open shrub. Grevillea aspleniifolia [Section 191l] has extended lateral branches with long narrow leaves and pink toothbrush-like flowers.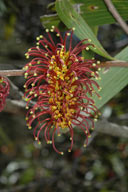 Hakea archaeoides- click for larger image
Following the path through the Eucalyptus Lawn, through an area of wattles down past
Hakea archaeoides
[Section 20] a tall shrub with its rust-red flower heads attached to the branches, to the Rock Garden where in the fenced enclosure the display of white and pink paper daisies of
Rhodanthe chlorocephala subsp. rosea
[Section 4] and the yellow paper daisies of
Schoenia filifolia
[Section 4] are so picturesque. Opposite,
Myoporum floribundum
[Section 15R] is an upright shrub with slim leaves drooping from the lateral branches and its tiny white flowers lining the top of the branches.
Goodenia macmillanii
[Section 15R] is a small upright plant with large pink flowers. In front, beyond the pools, the Gymea Lily,
Doryanthes excelsa
[Section 15C] bears its large clusters of red flower heads on long upright stems surrounded by long sword-like leaves. High above the waterfall,
Xanthorrhoea johnsonii
[Section 15D] also has a dense grass skirt bearing upright spikes clad with white flowers. Flowers are numerous here in the Rock Garden so are the photogenic water dragons.
Continue to the Rainforest, so cool, so green, so relaxing .. then down the ramp with extra flowers, to the Visitors Centre.
Hot, yes … cooling breeze … so pleasant … Barbara Daly
---
Updated 20 November, 2009 , webmaster, ANBG (anbg-info@anbg.gov.au)
---