---
---
In Flower this Week
sA weekly news sheet prepared by a Gardens' volunteer.
Numbers in square brackets [ ] refer to garden bed Sections. Plants in flower are in bold type.
13 November 2009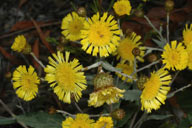 Podolepis monticola - click for larger image
Because of the hot days this walk is relatively short but so colourful with many flowers. Bottlebrushes and tea trees are magnificent as well as … well come and see! Edging Banks Walk Podolepis monticola [Section 210, 172] has bright yellow daisy-like flowers with frilly yellow edgings. Tea tree, Leptospermum 'Merinda' [Section 210] is a shrub prolific with buds now exploding to bright pink peach-blossom flowers. Beside Sir Joseph Banks monument Sturt's Desert Pea, Swainsona formosa [Section 174] with its large dark centred red pea-shaped flowers continue to bloom. Next to the pool, Grevillea 'Bonfire' [Section 210] is a tall many-branched shrub brilliant with its dark red flower clusters. Opposite a Chamelaucium 'Cascade Jewel' [Section 174] is rather lanky shrub beautified with its wax-like pinkish flowers. In front, a grouping of grass-trees including Xanthorrhoea glauca subsp. angustifolia [Section 60] with its flowing dense green grass skirt produces tall upright spikes clad with tiny white flowers. At the entry to the bridge Olearia argophylla [Sections 66, 305] is tall and gracefully clad with many clusters of white daisy-like flowers. There too, is Richea dracophylla [Sections 66, 305] tall plants with well arranged tapering leaves and terminal spikes once clad with tiny white flowers, now with interesting deep reddish bracts.
Across the bridge and in front of the café building a bottlebrush, Callistemon 'Nabiac Red' [Section 240] can be seen edging the lawn. It is an upright shrub with its bottlebrushs on its lateral branches. In the Ellis Rowan garden a group of Kangaroo Paws, Anigozanthos 'Rampaging Roy Slaven' [Section 131] with strappy leaves and rust-red flower heads. The brightness of small tubular red, with white mouth flowers of Epacris longiflora [Section 131] is close by. Pimelea ferruginea 'Magenta Mist' [Section 131] is a small many branched shrub with a profusion of colourful pink flower heads.
Follow the path to the right to view Kunzea pulchella [Section 240] a dense shrub bright with deep red fluffy flower clusters. Then, at the corner of the buildings Kunzea ambigua [Section 12] is a dense prostrate shrub white with fragrant fluffy flowers crowded along the terminal branches. Almost opposite, a tea-tree Leptospermum jingera [Section 11], in a group, is an upright open shrub attractive with white flowers along its branches. Continue along the road uphill. Melaleuca steedmanii [Section 127] presents its yellow speckled pink rounded terminal flowers on this leaning shrub while close by is a group of Anigozanthos flavidus [Section 127] with its matt green terminal flowers just developing. At the top corner Melaleuca fulgens [Section 127] has a dense coverage of fluffy tangerine coloured flowers over the low-growing shrub. At the opposite corner Callistemon 'Harkness' [Section 124] is tall and graceful with its arching branches of red bottlebrushes. Close by the background of shrubs with yellow flowers is that of Senna odorata [Section 119]. In front, Leptospermum 'Pageant' [Section 119] is bright with a shade of purple open flowers.
Taking the opposite small side-path where the tall tree with papery bark, Callistemon salignus [Section 10] with drooping branches of lemon bottlebrush flowers are. About here, Melaleuca 'Hot Pink' [Section 10] displays its rich pink flowers on upright shrubs. Again, return to the uphill road where Goodenia ovata [Section 117] is a dense, spreading groundcover brightened with small yellow flowers. Then, another spreading plant is Grevillea aspleniifolia [Section 124] with long narrow leaves and pink toothbrush-like flowers on its very extended low shrub.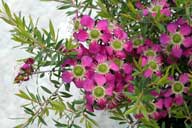 Leptospermum 'Tickled Pink' - click for larger image
Almost opposite, mint bushes glow purple. They include Prostanthera sieberi [Section 6] clad with purple flowers and a white flowering Prostanthera saxicola var. major [Section 6]. Cross the Brittlegum Lawn opposite, where Grevillea 'Robyn Gordon' [Section 109] displays its large terminal reddish flower heads on a low spreading shrub. On the other side of the lawn Leptospermum 'Tickled Pink' [Section `107] clad with green centred deep pink flowers. The groundcover there is Ranunculus collinus [Section 107] with its shiny yellow buttercup flowers.
Returning downhill edging the Rainforest Gully, with Leptospermum 'Tickled Pink' [Section 124], Grevillea 'Goldfever' [Section 124] is a low spreading shrub with pale apricot spider shaped flowers.
And so to the Coffee shop ahead.
A colourful, short walk … Barbara Daly.
---
Updated 13 November, 2009 , webmaster, ANBG (anbg-info@anbg.gov.au)
---