---
---
In Flower this Week
sA weekly news sheet prepared by a Gardens' volunteer.
Numbers in square brackets [ ] refer to garden bed Sections. Plants in flower are in bold type.
30 October 2009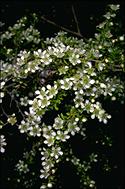 Leptospermum polygalifolium subsp. cismontanum - click for larger image
The shrubs in flower in the Gardens are so prolific. Banks Walk is ablaze with flowers but don't stop there because the colourful flowers edging the Main Path is truly magnificent. This walk will focus on a selection of eye-catching flowers.
Starting at the far end of the café building Leptospermum polygalifolium subsp. cismontanum [Section 12] is an upright willowy shrub topped with white petalled flowers while Kunzea rupestris [Section 10] has balls of white fluffy flowers edging its branches and Melaleuca fulgens 'Hot Pink' [Section10,11] is dazzling with its bright pink flower clusters on an open shrub. Homoranthus flavescens [Section 9] is a low shrub with its lateral flat topped branches clad with terminal nectar laden yellow flowers.
Around the corner Ozothamnus diosmifolius [Section 303] has pinkish flower heads over the many-branched shrub. Covering this bed, Chrysocephalum apiculatum [Section 303] is a prostrate spreading herb with green foliage and yellow heads of small yellow flowers on upright stems. In front a bed of waratahs include Telopea 'Canberry Gem' [Section 30] presenting its well-known terminal red flower heads on long upright stems. With it are Grevillea speciosa [Section 30,191h]] medium dense shrubs laden with brilliant red spider-shaped flowers. A group of drumsticks, Isopogon anethifolius [Section 25] with terminal yellow flower heads on low upright slim shrubs.
Grevillea acanthifolia subsp. acanthifolia [Section 27], an open shrub with spiky foliage and pink toothbrush-like flowers. (At the top end of the Sydney Region Gully a very large shrub can be seen). Grevillea flexuosa [Section 25,26] is an open spreading shrub displays its yellow cigar shaped flowers among its divided leaves. Crossing the road, on either side of the seat, Grevillea 'Bonfire' [Section 24] is tall and dense with lovely waxy red curvaceous flowers amid the soft foliage. Note that grevilleas continue to be plentiful along this path.
Crossing the next road, Melicope octandra [Section 112] is a shrub of medium size with large trifoliate leaves and sprays of small cream petalled flowers. Opposite boronias include Boronia muelleri [Section 112], yet small shrub with fine foliage and with small pale pink four petalled flowers. Crossing the nest road the path winds through the Sydney Region Gully. At the entry, Eriostemon australasius [Section 191h] here, an open shrub with large pink shaded five-petalled flowers. At the corner where the path leads to the hothouse, Black-eyed Susan, Tetratheca thymifolia [Section 191j] is a dense shrub clad with downturned pink flowers. In the opposite corner, Telopea mongaensis x Telopea speciosissima [Section 191d] displays its deep red terminal flowers atop long upright stems. At the exit Grevillea aspleniifolia [Section 191l] has long low lateral branches displaying its soft pink toothbrush-like flowers.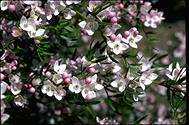 Boronia muelleri - click for larger image
Crossing the Eucalyptus Lawn down to the Rock Garden where, in the enclosed area a field of daisies can be viewed. Included are the pink and white Rhodanthe chlorocephala subsp. rosea flowers [Section 4] and the yellow Schoenia filifolia flowers [Section 4]. The water-fall and rock pools are so attractive especially with the numerous waterdragons sunning on the rocks. The far bank is clad with Grevillea 'Poorinda Royal Mantle' [Section 15D] dense with its deep red toothbrush-like flowers. Behind is the Gymea Lily, Doryanthes excelsa [Section 15c] which bears its large clusters of red flower heads atop long upright stems.
Continue to the cool relaxing green Rainforest Gully, looking downwards from the bridge, to view the dense canopy of cream flowers of Acradenia euodiiformis [Section 65]. Other flowers grow down the ramp, or to the coffee shop.
An enjoyable walk ……………………………………..Barbara Daly.
---
Updated 6 November, 2009 , webmaster, ANBG (anbg-info@anbg.gov.au)
---