---
---
In Flower this Week
sA weekly news sheet prepared by a Gardens' volunteer.
Numbers in square brackets [ ] refer to garden bed Sections. Plants in flower are in bold type.
2 October 2009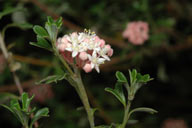 Pomaderris obcordata- click for larger image
As you leave the Visitors' Information Centre look up to the left to see the white flowers of Clematis aristata [Section 212] frothing over the phone booth. Further along on the right are several bushes of Philotheca myoporoides subsp. acuta [Section 172] with small white flowers on a neat bush. On the left is Acacia 'Green Mist' [Section 210] with dull yellow balls on a cascading fine leafed mound. Also on the left is Pomaderris obcordata [Section 210] showing balls of tiny white flowers smothering a loose bush. Cross the bridge over the Rainforest Gully and take the Main Path past the café. Bear right to follow the Childrens' Discovery Loop. Notice on your left the grey leafed form of Calothamnus quadrifidus [Section 12] with contrasting bright red flowers. Also on the left is Micromyrtus ciliata [Section 12] with small flowers on a neat mounded bush. The flowers open white and mature to dark pink.
Continue towards the CSIRO Gate and notice on your left Pomaderris velutina [Section 31] with bright yellow balls on mid-green foliage. There are two more Pomaderris on your left worth noticing, Pomaderris eriocephala [Section 31] with cream balls on a large open bush and Pomaderris humilis [Section 31] with yellow balls on a large open shrub. Continue towards the Main Path. On the right is Goodia lotifolia [Section 33], giving a cheerful display of brilliant yellow blooms on long stems. Opposite is the honey-scented Grevillea australis [Section 28], a medium-sized bush of small curled cream flowers. Also on the left is Grevillea 'Wakiti Sunrise' [Section 28] with bright red blooms. Close by is another small grevillea, Grevillea juniperina subsp. amphitricha [Section 28] covered in butterscotch yellow blooms.
Bear left towards the Main Path noticing on the corner Hakea corymbosa [Section 25] with lime green flowers on a spiky bush. On the right is Grevillea floribunda subsp. floribunda [Section 26] with clusters of odd greenish blooms within rusty buds. On the left is a small tree, Grevillea 'Sid Reynolds' [Section 25], with delicate pink and cream blossoms on fine foliage. On the right is Grevillea minutiflora [Section 26] living up to its name with small white rods of flower.
There is a mat of light green foliage on the left covered in lacy white flowers – this is Grevillea curviloba [Section 25]. A small bush on the right is covered in bright red flowers, Grevillea speciosa [Section 26]. On the right are the beautiful rusty red cones of Banksia blechnifolia [Section 26] poking through toothed foliage. Also on the right is Isopogon formosus subsp. formosus [Section 24] , a spiky bush topped with pink cone flowers. Grevillea flexuosa [Section 25] on the left displays scented cream rods on a low bush of stiff divided foliage. Grevillea dimorpha [Section 25] on the right is covered in brilliant red spider flowers. Continue down the hill on the Main Path Loop to the café and Visitors' Information Centre.
Rosalind Walcott
---
Updated 9 October, 2009 , webmaster, ANBG (anbg-info@anbg.gov.au)
---