---
---
In Flower this Week
sA weekly news sheet prepared by a Gardens' volunteer.
Numbers in square brackets [ ] refer to garden bed Sections. Plants in flower are in bold type.
18 September 2009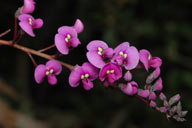 Hardenbergia violacea- click for larger image
This walk continues up to the mallee area of Western NSW and SA with selected plants mentioned on the way and the perfumed golden wattles are seen everywhere. At the Visitors Centre door in pots, view Calytrix leschenaultii, a small many branched shrub profuse with purple star flowers with red centre, and Grevillea treueriana with willowy branches terminated with large cream and red flowers. The pots at the far end of Banks Walk contain Actinodium cunninghamii, erect shrubs clad with daisy-like flower heads coloured red with a white surround. Following the marked map Grevillea rosmarinifolia 'Rosy Posy' [Section 128] are small dense shrubs clad in abundance with pendular pink spider flowers. Banksia spinulosa [Section 126] is a shrub of medium size still with lovely gold flower spikes while, around the curve Grevillea 'Poorinda Diadem' [Section 126] has apricot coloured spider-like flowers throughout the medium size shrub.
Edging the road to the left, Grevillea aspleniifolia [Section 124] is a large shrub with long fine leaves and many pink toothbrush-like flowers. Taking the path to the right at the Rock Garden where Rhodanthe anthemoides [Section 15d] covered with small white daisy-like flowers grow in pockets among the rocks. Indigofera australis [Section 4] is an open upright plant with bluish green leaves mixing with sprays of purple-pink pea- shaped flowers. The enclosure contains the first flowering of a mix of pink and white paper daisies of Rhodanthe chlorocephala [Section 4]. The road to the left then passes through many fluffy golden wattles up to the base of the old nursery where a grouping of Grevillea sericea [Section 44] clad with spider-like flowers coloured deep mauve-red. The plants edging the road upwards include Tetratheca ciliata [Section 300] a low mounded shrub white with downturned flowers. Logania albiflora [Section 41] is a rounded dense shrub of medium size clad with small white pleasantly perfumed flowers. Above, Grevillea flexuosa [Section 41] is an open shrub with terminal yellow cigar shaped flowers on its arching branches.
Crossing the road Hakea recurva [Section 100b] is a tall shrub with long sharp leaves and lemon coloured lacy flowers clinging to the upper branches. Entering the boardwalk of the mallee area and in an anticlockwise direction the following flowering plants may be seen. Hybanthus floribundus subsp. adpressus [Section 100b] has a coverage of tiny white flowers with a trace of blue. Eucalyptus flocktoniae subsp. hebes [Section 100b] is a small tree laden with buds now maturing with soft yellow frilly flowers. Dampiera salahae (one of numerous dampiera species) [Section 100b], is a small tufted plant clad with its rich blue flowers.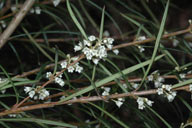 Logania albiflora- click for larger image
Around the curve, Grevillea 'Sid Reynolds' [Section 100b] branches above the path and reveals its lovely cream flowers with long red styles. Boronia crenulata var. crenulata [Section 100b] is now showing its small pink star flowers. Dryandra sessilis var. cygnorum [Section 100a] with short sharp foliage has lemon fluffy flower heads while, edging the road Conostylis seorsiflora [Section 100a] is a small ground cover bearing bright yellow star flowers. In the background the large floppy pink flower heads are those of Isopogon cuneatus [Section 100a]. Stackhousia monogyna [Section 100b] is clad with tiny yellow flowers over this small plant while Hardenbergia violacea [Section 100c] climbs other shrubs with its deep purple pea-shaped flowers. Astartea sp. [Section 100c] is an upright plant bright with its open white flowers. At the exit, the large Banksia ericifolia [Section 103] continues to glow gold with long upright cylindrical flower spikes.
Many flowers, others yet to bloom … Barbara Daly.
---
Updated 18 September, 2009 , webmaster, ANBG (anbg-info@anbg.gov.au)
---