---
---
In Flower this Week
sA weekly news sheet prepared by a Gardens' volunteer.
Numbers in square brackets [ ] refer to garden bed Sections. Plants in flower are in bold type.
11 September 2009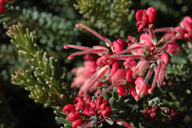 Grevillea lanigera - click for larger image
The Botanic Gardens just dazzle with the golden yellow of our famous wattles. Many will be seen on the way to the Rock Garden which is chosen for this week's walk. To arrive there follow the Main Path to the end of the café building and turn left which will end in front of the Rock Garden waterfall.
Take the path in a clockwise direction where groups of small white paper daisy flowers of Rhodanthe anthemoides [Section 15d] collect between the rocks. In the opposite corner Grevillea lanigera [Section 15c] is bright with pink flowers over this groundcover which mingles with Leucopogon microphyllus [Section 15c], a small shrub with dark foliage and tiny white flowers, both at the base of the giant Gymea Lily, Doryanthes excelsa [Section 15c] with large buds atop long spikes. Banksia 'Honeypots' [Section 15d] is a small shrub clad with many honey coloured upright cylindrical flower spikes. Grevillea monticola [Section 15d] has holly-like leaves and conspicuous cylindrical shaped cream flower clusters. Further back, Grevillea triloba [Section 15d] is a medium size shrub clad with white feathery flowers.
In the small garden Conostylis candicans subsp. candicans [Section 15e] is a tufted plant with short strappy leaves and heads of globular yellow flower heads. Boronia caerulescens [Section 15e] is a spindly upright, hard-to-see, plant bearing small pink four-petalled flowers while Astartea ambigua [Section 15e] has an abundance of white flowers over the small dense shrub. Homoranthus darwinioides [Section 15f] has grey-blue foliage and interesting cream-red flowers scattered over this dense spreading shrub. Close by Daviesia horrida [Section 15f] has sharp needle-like foliage with red centred orange pea-shaped flowers on this slim upright plant. Billy Buttons, Craspedia variabilis [Section 15m] has yellow globular floral heads on upright stems surrounded by grey-green leaves.
Cascading down the slope, Acacia pravissima 'Kuringa Cascade' [Section 15h] with an abundance of yellow flower balls mix with Grevillea lanigera [Section 15h] with cream-red spider flowers, both being ground covers. Edging this path, Micromyrtus ciliata [Section 15g] is so attractive with its low arching branches clad with brick red and white tiny flowers.
Edging the stairs Homoranthus flavescens [Section 15a] is a flat topped shrub with branches coloured with tiny yellow flowers. The many flowers edging the top road include Hibbertia empetrifolia [Section 15h], dense entanglement of trailing stems showing the first of its many yellow flowers. Grevillea iaspicula [Section 15h] a small dense shrub laden with pinkish flower clusters and Calytrix longiflora [Section 15j], a small shrub clad with white petalled flowers with pink centre. Across the road a section of a variety of wattles are welcome to walk through.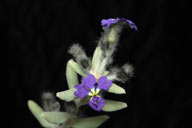 Dampiera salahae - click for larger image
Down between the grass trees, Xanthorrhoea johnsonii [Sections 15j,14] where a waratah, Telopea speciosissima 'Wirrimbirra White' [Section 15r] stands tall with many large flower buds seen on the many branches are awaiting warmer weather to explode to its white flowers. Dampiera salahae [Section 15s] is a small creeping ground cover clad with deep blue flowers, here, falling between the rocks. At the exit Thryptomene denticulata [Section 15s] is an attractive low shrub with lateral branches clad with tiny pink flowers. Overlooking this plant, Philotheca myoporoides subsp. myoporioides [Section 15s] is an open shrub clad with large pink petalled flowers. This is only a few of our attractive flowering plants to view as well as the ducks enjoying the pond.
Spring flowers worth waiting for … Barbara Daly.
---
Updated 18 September, 2009 , webmaster, ANBG (anbg-info@anbg.gov.au)
---