---
---
In Flower this Week
sA weekly news sheet prepared by a Gardens' volunteer.
Numbers in square brackets [ ] refer to garden bed Sections. Plants in flower are in bold type.
28 August 2009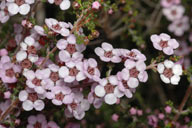 Baeckea crassifolia - click for larger image
This walk, however, is to follow the Main Path where wattles brighten the area with their golden fluffy flowers. WATTLE ACTIVITIES ARE HELD THROUGHOUT THE WEEK information can be obtained at the Visitors Information Desk.
Starting at the far end of the café building, follow the path past the papery white trunks of melaleucas, where the small upright shrubs of Baeckea crassifolia [Section 10] have a covering of small pink dark centred flowers. In the bed of emu bushes, Eremophila bowmanii subsp. bowmanii [Section 302] bears violet coloured bugle shaped flowers among its grey-green foliage. Wattles, Acacia dawsonii [Section 303] are many branched shrubs adorned with yellow flower balls. The Red Spider flower, Grevillea speciosa [Section 30] is a dense medium size shrub decorated with pendulous cherry coloured flower clusters. Dryandra squarrosa subsp. squarrosa [Section 30] has yellow flower heads on this small upright shrub. Acacia baileyana [Section 30] is a semiprostrate shrub, attractive with its soft yellow flower balls mingling with the green-grey foliage. Behind, Banksia ericifolia var. ericifolia [Section 30] is a large shrub brilliant with rich golden flower spikes. Banksia spinulosa [Section 27] is dense with vivid yellow flower spikes while at the road junction, behind the notice, Isopogon dubius [Section 25] is an upright shrub with floppy pink flower heads. Beside is Grevillea flexuosa [Section 25] a low spreading shrub with divided leaves and perfumed yellow cigar shaped flowers.
Crossing the road, Hakea 'Winter Burgundy'[Section 26] is brilliant with its pink globular flowers hugging the upright branches of this small shrub. Grevilleas continue to burst into flower, including Grevillea dielsiana [Section 26] a low open shrub with orange-red flower clusters dangling from its branches. At the crossroads, Grevillea centristigma [Section 26] is a small shrub with hairy foliage almost covering the small bright yellow flowers.
Across the road the shrubs with yellow flowers are those of Phebalium squamulosum [Section 112]. The road then curves through the Sydney Region Gully where flowers are slower to bloom. Dillwynia ramosissima [Section 191h] is of medium size well covered with small dark centred yellow pea-shaped flowers. Epacris calvertiana var. calvertiana [Section 191j] is a wiry plant with an abundance of tubular cream flowers.
Across the Eucalyptus Lawn to a grove of wattles which include Acacia flexifolia [Section 18] a low spreading shrub clad with soft yellow flower balls and Acacia cognata [Section 18] a tall willowy shrub with soft foliage laden with buds. Cross the road where hakeas include Hakea recurva [Section 20] a large many branched shrub with sharp pointed leaves and greenish-pink flower clusters. The Cauliflower Hakea, Hakea corymbosa [Section 20] is of medium size with dense rounded clusters of greenish flowers amid the sharp short foliage.
The Rock Garden has many flowers to enjoy, including Indigofera australis [Section 4] an erect shrub with bluish-green foliage and sprays of purple pea shaped flowers. Hardenbergia violacea [Section 4], also in front of the waterfall, is a vine with purple pea-shaped flowers climbing about shrubs. Rhodanthe anthemoides [Section 15d] is a mounded plant profuse with white daisy-like flowers, seen among the rocks.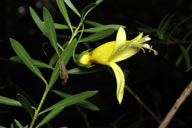 Eremophila maculata - click for larger image
The Rainforest is a pleasure to stroll through, then down the ramp where other flowers including a mint bush, Prostanthera phylicifolia [Section 210] with bright mauve flowers and an emu bush, Eremophila maculata [Section 210] with yellow tubular flowers over the open shrub.
A spring walk to enjoy… Barbara Daly
---
Updated 28 August, 2009 , webmaster, ANBG (anbg-info@anbg.gov.au)
---