---
---
In Flower this Week
sA weekly news sheet prepared by a Gardens' volunteer.
Numbers in square brackets [ ] refer to garden bed Sections. Plants in flower are in bold type.
21 August 2009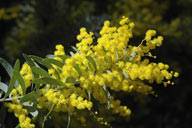 Acacia covenyi - click for larger image
Our fair city and environment is beginning to glow with the yellow wattles. Likewise our Botanic Gardens. This walk will be close to many as well as other coloured flowers. From Banks Walk the Snowy River Wattle, Acacia boormanii [Section 210] is showy as it drapes its arching branches clad with soft yellow flower balls over the retaining wall while opposite, Acacia gordonii [Section 174] is a low spreading shrub with its lateral branches containing firm yellow flower balls.
Cross over the stream to view flowers in the Ellis Rowan Garden just past the café. The Chef's Hat Correa, Correa baeuerlenii [Section 131] is quite a dense shrub with shiny leaves which almost conceal the long tubular pale green flowers with calyx that gives the appearance of a chef's hat. Across the path Banksia 'Stumpy Gold' [Section 131] is a low spreading shrub laden with its cylindrical upright flower spikes. Take the next path to the right where the Blue Bush, Acacia covenyi [Section 240] with blue-green foliage and soft fluffy yellow flowers arches over the adjoining path. Towards the entry to the Banks Centre, Banksia 'Giant Candles' [Section 239] is a large open shrub displaying its many quite long golden flower spikes. Compare it with Banksia ericifolia var. ericifolia [Section 239] a large dense shrub bright with shorter golden flower spikes. Around the corner at the entrance to the Crosbie Morrison Building, the Gungurru, Eucalyptus caesia [Section 239] is a slim upright shrub with trunk clad with loose brown bark, white willowy branches with many buds and few large photogenic red-gold fluffy flowers.
Return uphill to take the road opposite the grand old Eucalyptus mannifera [Section 10]. Westringia eremicola [Section 126] has a scattering of small mauve flowers over the low open shrub while Banksia spinulosa [Section 126] displays it gold upright flower spikes ribbed with red stamens. The Q'ld Silver Wattle, Acacia podalyriifolia [Section 126] is brilliant with dense clusters of golden fluffy flower balls among the bluish-green foliage.
Edging the road to the right edging the Rainforest Gully Grevillea 'Goldfever' [Section 124] is a small spreading shrub bearing apricot coloured spider flowers then, in the triangular garden, Epacris calvertiana var. calvertiana [Section 17] is somewhat dense and upright covered in profusion with small tubular white flowers. Beside is Chamelaucium 'Cascade Brook' [Section 17] a larger shrub clad with buds now opening to attractive waxy deep pink open flowers. Dampiera salahae [Section 17], at the next corner is semi-prostrate with its lateral branches deep blue with flowers. Opposite the Rainforest Gully close to the corner a sassafras, Doryphora sassafras [Section 140] is a medium size tree with shiny dark green toothed leaves and white flowers. Opposite, Crowea 'Festival' [Section 123] is a dense shrub clad with deep pink starry flowers.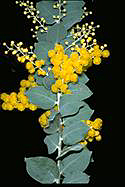 Acacia podalyriifolia - click for larger image
Walking to the Rock Garden flowers include a corner of Grevillea lanigera [Section 15H] is a dense groundcover clad with deep red buds while Grevillea iaspicula [Section 15H] is a small shrub with pink-cream pendent flowers. Opposite is a section of wattles, some in flower others heavy with buds. A walk about these colourful trees is most enjoyable, before returning.
Such a great place, these Gardens … Barbara Daly.
---
Updated 21 August, 2009 , webmaster, ANBG (anbg-info@anbg.gov.au)
---