---
---
In Flower this Week
A weekly news sheet prepared by a Gardens' volunteer.
Numbers in square brackets [ ] refer to garden bed Sections. Plants in flower are in bold type.
14 August 2009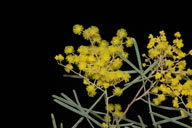 Acacia boormanii - click for larger image
Such a pleasure to stroll through the Botanic Gardens, now turning yellow with the many wattles preparing for Wattle Day. Edging Banks Walk Acacia gordonii [Section 174] places its golden flower balls with many buds along its low spreading branches while opposite the Snowy River Wattle, Acacia boormanii [Section 210] is yet clad with yellowish buds and few soft yellow flowers as it falls over the retaining wall. Banksias continue to bear their upright cylindrical flower spikes as seen on the dwarf Banksia 'Birthday Candles' [Section 172] with gold flowers ribbed with red stamens.
Follow the road edging the Rainforest Gully opposite which is a grouping of Grevillea rosmarinifolia 'Rosy Posy' [Section 128]. These small dense shrubs are clad in profusion with colourful pendular clusters of red-cream flowers. Dagger Wattle, Acacia siculiformis [Section 128] is an upright shrub with lateral branches clad with sharp curved dagger-like phyllodes and fluffy yellow flower balls. In the adjacent corner the Q'ld Silver Wattle, Acacia podalyriifolia [Section 126] bears loosely packed heads of fluffy golden flower balls among the bluish-green phyllodes. Beside is Banksia spinulosa [Section 126] bright with many gold flower spikes. Rounding the corner Westringia eremicola [Section 126] an open shrub scattered with mauve flowers.
Turning left then right at the Q'ld Bottle Tree, Brachychiton rupestris [Section 302] with its large bottle-shaped trunk. At its base an emubush, Eremophila maculata [Section 302] is a small spreading dense shrub with dusky red tube flowers and Myoporum petiolatum [Section 302] a shrub of medium size with small white petalled flowers dotted mauve among the foliage. Rounding the corner are numerous emubushes including Eremophila oppositifolia [Section 302], an upright shrub clad with cream flowers and Eremophila youngii [Section 302] with pale pink tube flowers among its grey-green foliage seen opposite the Cabbage tree palm, Livistona australis [Section 8] with dense upright trunk, thorny branches and attractive fan shaped leaves.
Towards the Rock Garden Lysiosepalum involucratum [Section 4] is a small shrub profuse with attractive rust coloured buds now maturing to mauve-purple flowers. Opposite the waterfall and ponds Guichenotia ledifolia [Section 4] has a covering of downturned pink-mauve cup shaped flowers over the rounded shrub. Continue to the fenced area in which the small shrub with purple flowers edging the upright stems is Hovea lanceolata [Section 4]. Follow the fence down edging the lawn to the corner where small white shrubs are Cryptandra sp. [Section 4]
Follow the road to the left then turn right where a tree, Acacia podalyriifolia [Section 23] can be seen. Turn left around this tree to follow a narrow path edged with dense grevilleas including Grevillea 'Crosbie Morrison' [Section 24] a medium spreading shrub brilliant with almost scarlet coloured flowers. Beside is Grevillea brevifolia [Section 24] of similar height but more open with attractive orange-red pendent flower clusters. Later, Grevillea juniperina [Section 23] is of medium size, bearing its shade of red spider flowers. Well behind this shrub Hakea cristata [Section 23] is a rounded shrub clad with cream fluffy flowers. The path concludes at the junction of the Main Path. Nearby Hakea 'Winter Burgundy' [Section 26] is brilliant with its upright branches of this slim small shrub crowded with bright pink globular flowers.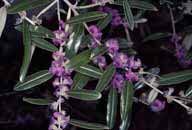 Hovea lanceolata - click for larger image
If returning to the right along the Main Path a dwarf form of the Cootamundra Wattle, Acacia baileyana [Section 30] is low and dense with arching branches clad with grey-green foliage and now its buds are bursting into golden fluffy flower balls.
Such a great place to walk … Barbara Daly.
---
Updated 21 August, 2009 , webmaster, ANBG (anbg-info@anbg.gov.au)
---