---
---
In Flower this Week
A weekly news sheet prepared by a Gardens' volunteer.
Numbers in square brackets [ ] refer to garden bed Sections. Plants in flower are in bold type.
7 August 2009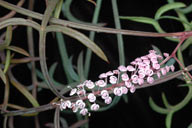 Grevillea leptobotrys - click for larger image
Spring is approaching and the wattles and grevilleas are bursting into colour as are many other flowers. This walk includes those and other flowers. So, outside the Information Centre Doors in pots, Grevillea leptobotrys with its strands of tiny pink flowers amid the entanglement of wiry branches and Rhododendron lochiae dense with shiny leaves and spray of deep red bugle shaped flowers. From Banks Walk beside Joseph Banks sculpture Sturts Desert Pea, Clianthus formosus [Section 172] reveals few of its popular dark centred red pea- shaped flowers. Acacia gordonii [Section 174] is a low spreading shrub with golden flower balls and many buds along the branches. Mondurup Bell, Darwinia macrostegia [Section 174] is an open shrub, interesting with prominent dark red unopened bell shaped flowers. Opposite, a mint bush, Prostanthera phylicifolia [Section 210] is clad with pink flowers as it falls down the rock face.
Continue over the bridge where in front of the café building and in the Ellis Rowan garden, Banksia 'Stumpy Gold' [Section 131] is a dwarf spreading shrub with many upright cylindrical flower spikes ribbed with reddish stamens. Take the next path to the right to view Banksia 'Giant Candles' [Section 239] which bears elongated golden flower spikes over a large open shrub while Banksia ericifolia var. ericifolia [Section 239] also large and covered in profusion with shorter golden flower spikes. Around the corner close to the doors of the Crosbie Morrison Building Gungurru, Eucalyptus caesia [Section 239] has a long willowy habit with a loose bark brown trunk, white arching branches, many buds and few of its lovely large open red-gold flowers.
Returning uphill past the photogenic white trunked Eucalyptus mannifera [Section 10] underneath its branches Thryptomene 'Pink Lace' [Section 10] continues to produce tiny pink flowers over the small shrubs. Turn right where Baeckea crassifolia [Section 10] is picturesque with a dense cover of tiny pink flowers over the small many branched shrub. Micromyrtus ciliata [Section 10] also a low dense shrub with arching branches clad with dark red buds now opening to tiny white flowers. Continue across the Main Path to a corner with a grouping of this Micromyrtus sp. [Section 9] of somewhat different colouring. Opposite is Olearia microphylla [Section 29], rather straggly but with terminal clusters of white daisy-like on long branches. Worth viewing off the path to the left and behind the seat is Banksia ericifolia var. macrantha [Section 27] an open many branched shrub now with interesting silvery juvenile flower spikes which will mature to gold. Then, edging the original path where Banksia spinulosa var. spinulosa [Section28] bears bright yellow flower spikes over a dense shrub. At the next intersection a corner of Grevillea lanigera f. Bittangabee [Section 28] as a groundcover, is dense with flat deep pink flowers. Behind Banksia marginata [Section 28] is a dense shrub displaying short yellow flower spikes. (This banksia is local to this area.) Beside is Grevillea parvula [Section 28], a small dense shrub, with dangling red spider flowers.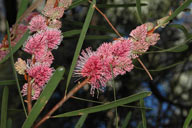 Hakea ' Winter Burgundy' - click for larger image
Take the small curving path to the left to the junction with the Main Path. At the corner behind the notice, Drumstick, Isopogon dubius [Section 25] is a small open upright shrub with prickly divided leaves and terminal mauve flower heads. Another corner has Grevillea dimorpha [Section 25] an upright dense shrub with many reddish flowers edging the upright stems. Beside is Grevillea epicroca [Section 25] a large many branched shrub with dusky red pendular spider flowers. Across the road, not to be missed, is Hakea 'Winter Burgundy' [Section 26] an upright slim shrub with bright pink globular flowers densely wrapped about the branches.
Great gardens … Barbara Daly.
---
Updated 10 August, 2009 , webmaster, ANBG (anbg-info@anbg.gov.au)
---