---
---
In Flower this Week
A weekly news sheet prepared by a Gardens' volunteer.
Numbers in square brackets [ ] refer to garden bed Sections. Plants in flower are in bold type.
31 July 2009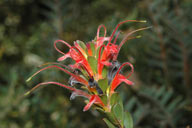 Adenanthos obovatus - click for larger image
Tis only a few weeks till spring and it is time to explore the flowers in the Rock Garden. To get there follow the Main Path from the Information Centre and turn to the left at the far end of the café building. On arriving at the base of the waterfall walk in a clockwise direction where Gymea Lilies, Doryanthes excelsa [Section 15c] with large sward-like leaves and the tall spikes tipped with large green buds grow. At the base Leucopogon microphyllus [Section 15c] is a dwarf shrub massed with tiny white flowers amid the dark foliage and Grevillea lanigera [Section 15c] is a ground-cover now pink with flowers. The opposite corner crowded between the rocks Rhodanthe anthemoides [Section 15d] is a small dense perennial profuse with small white and red buds maturing to white daisy-like flowers.
Edging the stairs Coast Banksia, Banksia integrifolia subsp. integrifolia [Section 15c] is a dwarf shrub with flower spikes coloured lemon mixing with older dark flower spikes. This plant can be seen as a hedge [Section 15L]. Adenanthos obovatus [Section 15d] is a small upright shrub with curvaceous red flowers. Behind is Banksia 'Honeypots' [Section 15d] supposedly a dwarf shrub bearing honey coloured flower spikes over the upright branches. Grevillea triloba [Section 15d] is a shrub of medium size bearing trilobed leaves and white feathery flowers. Homoranthus darwinioides [Section 15f] is a shrub with grey-blue foliage and interesting cream-red flowers scattered over this shrub.
Worth viewing, Micromyrtus ciliata [Section 15g] is a small shrub with brick red buds which will mature to small white flowers. It can be seen above the rock-face. Before ascending the stairs Westringia glabra [Section 15a] has a scattering of bright pink flowers amid the fresh green foliage. Edging the stairs Homoranthus flavescens [Section 15a] is a flat topped shrub of medium size with green foliage tipped with red buds while Homoranthus bornhardtiensis [Section 15a] has greyish foliage tipped with yellow buds At the base Hibbertia serpyllifolia [Section 15a] is a small plant with bright yellow flowers seen struggling down to the path.
From the top road Grevillea lavandulacea [Section 15h] is a misshapen shrub with grey- green foliage and deep red pendulous buds. Grevillea iaspicula [Section 15h] from Wee Jasper, is a small upright shrub laden with reddish flower clusters. Cryptandra sp. [Section 15h] is another small shrub white with tiny flowers. Following the downward path between grass trees, Xanthorrhoea johnsonii [Section 15j, 14] opposite the hedge of Banksia integrifolia subsp. integrifolia [Section 15L] small plants include Olearia iodochroa [Section 15K] a dense and well covered with small daisy-like flowers and Melichrus urceolatus [Section 15K] is a prostrate shrub with sharp narrow leaves and an abundance of cream buds edging the branches.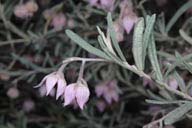 Guichenotia ledifolia - click for larger image
At the bottom of this path, the Cauliflower Hakea, Hakea corymbosa [Section 15P] is a dense shrub of medium size with large rounded clusters (resembling a cauliflower) of sharp narrow leaves mixing with its pale green buds. At the lower end of this path Thryptomene denticulata [Section 15s] is a low spreading shrub, beautiful with its arching branched clad with tiny pink flowers while in front of the scenic pools in front of the waterfall, Guichenotia ledifolia [Section 4] is a shrub of medium size dense with grey-green foliage and profuse with downturned pink cup shaped flowers. Also noticeable throughout the Rock Garden are the small blue Superb Fairy Wrens which seem to dance about the plants.
An enjoyable walk … Barbara Daly.
---
Updated 31 July, 2009 , webmaster, ANBG (anbg-info@anbg.gov.au)
---