---
---
In Flower this Week
A weekly news sheet prepared by a Gardens' volunteer.
Numbers in square brackets [ ] refer to garden bed Sections. Plants in flower are in bold type.
17 July 2009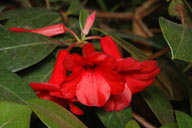 Rhododendron lochiae - click for larger image
It is said there are no flowers in these gardens in midwinter! To follow this walk will select some of the many to enjoy. To start, outside the Visitors Information Centre doors the Rhododendron lochiae bears few of its deep red bell shaped flowers among its dark shiny leaves. It originates from the mountain tops of north Queensland while Grevillea leptobotrys has an entanglement of fine wiry branches with terminal pink floral sprays. Edging Banks Walk, Darwinia macrostegia [Section 170] is attractive with deep red buds falling from its many branches. Banksia 'Birthday Candles' [Section 170] is a dwarf spreading shrub with golden upright cylindrical flower spikes. About the seat Woollsia pungens [Section 174] has its small white flowers crowded about the tips of the upright stems. Epacris reclinata [Section 174] is somewhat similar with powder pink tubular flowers with white mouth edging the stems. Victorian floral emblem, Epacris impressa [Section 174] has bold pink flowers while Epacris longiflora [Section 174] has white flowers. Opposite, Prostanthera phylicifolia [Section 210] well clad with pink flowers, falls over the rock wall while Grevillea nudiflora [Section 60], a groundcover with short curved narrow foliage and small yellow tipped red flowers, also cascades over a rock wall.
Following the path edging the Rainforest, Grevillea rosmarinifolia 'Rosy Posy' [Section 128] is a small shrub with prominent clusters of pink and cream flowers pendent from its branches. Continuing uphill, Grevillea 'Goldfever' [Section 124] has spider flowers and buds coloured apricot over this low spreading shrub. Edging the Brittlegum lawn Banksia spinulosa var. spinulosa [Section 109] is an orderly upright shrub endowed with gold flower spikes with dark stamens. Behind is a large tree-fern, Dicksonia antarctica [Section 109] which is next to a small path which wanders through many plants including other tree-ferns finishing at the Main Path … such a pleasant detour! Then back to the original path.
Acronychia imperforata [Section 104] is a large shrub with dark glossy foliage brightened with sprays of small lemon flowers. Opposite the triangular garden, leaning towards the path a bottlebrush, Callistemon montanus [Section 104] is quite dense, its terminal branches tipped with attractive red new growth leaves. This plant will bear large red bottlebrush-like flowers. Close by a teatree, Leptospermum amboinense [Section 104] is more upright also with a shade of red new growth foliage and will bear white open petalled flowers.
In the triangular garden, Epacris calvertiana var. calvertiana [Section 17] has a scattering of white tubular flowers along its many upright stems. Beside is Geraldton Wax Flower, Chamelaucium 'Cascade Brook' [Section 17], an open shrub of medium size laden with shining reddish buds and now with few pink wax flowers. Opposite, Crowea 'Festival' [Section 123] is a neat dense shrub with an abundance of bright pink star flowers.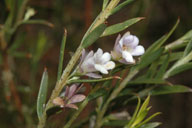 Eremophila pachyphylla - click for larger image
Follow the road to the Rock Garden where, at a corner, Grevillea lanigera [Section 15h] is a dense groundcover clad with red buds and flowers. Many flowers are awaiting admiration including, at the base of the waterfall, a corner of Rhodanthe anthemoides [Section 15d] low with soft foliage and an abundance of claret-white buds which will mature to white daisy-like flowers. Emu bushes include Eremophila pachyphylla [Section 15v] having many upright branches with white, tinted mauve tubular flowers, almost surround another Banksia 'Birthday Candles' [Section 15v] complete with its golden 'candles'. The road down ends at the Café building…
Cold days, great walking… Barbara Daly.
---
Updated 17 July, 2009 , webmaster, ANBG (anbg-info@anbg.gov.au)
---