---
---
In Flower this Week
A weekly news sheet prepared by a Gardens' volunteer.
Numbers in square brackets [ ] refer to garden bed Sections. Plants in flower are in bold type.
10 July 2009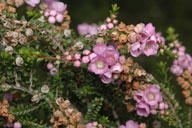 Thryptomene denticulata - click for larger image
There is an area containing mallee species of WA and SA worth visiting. Flowers may not be prolific but many plants are clad with buds awaiting warmer weather. It is situated up beyond the old nursery. Edging this road the most colourful flowers are the mauve daisies on a low shrub are Olearia astroloba [Section 300] and a ground cover, Brachyscome multifida 'Breakoday' [Section 300] with soft foliage and small pink daisies.
Enter the mallee area on the boardwalk opposite the large papery trunks of Melaleuca decora [Section 103]. Take heed of the variety of plants especially those in bud. Notice the leaf shapes, the foliage with the variety of shades of green and the shapes of the developing buds. See Eucalyptus flocktoniae subsp. hebes [Section 100b], a small tree with multiple trunks and fairly dense foliage laden with clusters of beak shaped buds which mature to cream flowers. At its base Thryptomene denticulata [Section 100b] covers its low arching branches with tiny pink flowers which mingle with the tussocky spinifex grass, Triodia scariosa [Section 100b] scattered throughout this area.
Almost opposite Correa reflexa [Section 100a] is a medium dense shrub with numerous red and cream dangling tube shaped flowers. Behind, Thryptomene saxicola [Section100a] is somewhat taller and densely clad with pale pink flowers.
At the curve Grevillea 'Sid Reynolds' [Section 100b] is a tall shrub with branches above the path. It bears large cream flowers with long red styles tipped yellow. Close by is the small Baeckea crassifolia [Section 100c] which covers its upright stems with tiny pink flowers. (This attractive plant can also be seen along this path) Beside is an emu bush, Eremophila oldfieldii subsp. angustifolia [Section 100c], interesting for it is now clad with green calyces, resembling four petalled flowers which followed on after the red flowers have fallen.
The path continues past the curve. Banksia epica [Section 100a] is a low dense shrub with mostly spent greyish flower spikes but also with few ochre coloured flower spikes. Close by another emu bush, Eremophila oppositifolia [Section 100a] is another attractive shrub clad in profusion with cream curved tube shaped flowers. Behind, the red bottle-brush flowers are those of Beaufortia decussata [Section 100a] which can also be seen, almost opposite on much younger shrubs. Edging the path Agonis marginata [Section 100c] is a dense shrub of medium size crowned with small dark centred white flower clusters. A wattle, Acacia alata [Section 100c] is quite noticeable for it is a fairly low shrub white with fluffy flower balls edging the flat zig-zag branches Dryandra quercifolia [Section 100a] is dense and rounded with toothed leaves and large rounded yellowish flower heads. Almost opposite, Astartea sp. [Section 100c] is an upright shrub bearing obvious white open petalled flowers.
Opposite the board-walk exit, Banksia ericifolia [Section 103] is a large ageing shrub bearing large rich golden flower spikes while, in the distance clusters of orange fruits on the upright branches of Auranticarpa rhombifolia [Section 96] are seen.
Pleasant walking many flowers … Barbara Daly.
---
Updated 10 July, 2009 , webmaster, ANBG (anbg-info@anbg.gov.au)
---