---
---
In Flower this Week
A weekly news sheet prepared by a Gardens' volunteer.
Numbers in square brackets [ ] refer to garden bed Sections. Plants in flower are in bold type.
03 July 2009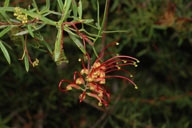 Grevillea ripicola - click for larger image
Frosts and fogs before sunny days, many plants heavy in bud awaiting spring, but still flowers to admire along the Main Path. Start at the end of the Café building where a wattle, Acacia alata var. biglandulosa [Section 240] is an unusual dense shrub with cream flower balls edging the angulated flattened stems. Walk below the white papery branches of a melaleuca to view Baeckea crassifolia [Section 10] a small shrub with a profusion of tiny pink flowers covering its upright branches. Almost opposite a grouping of Thryptomene denticulata [Section 9] are also small shrubs but with lateral branches clad with small pink flowers.
Past the bed of grasses, Banksia ericifolia var. ericifolia [Section 30] is a large shrub glowing with upright cylindrical gold coloured flower spikes. Then Banksia 'Birthday Candles' [Section 30] is a dwarf spreading shrub, also glowing with gold flower spikes. Coastal Banksia, Banksia integrifolia subsp. integrifolia [Section 30], at the corner is a sprawling plant with silver backed leaves and crowned with flower spikes coloured cream to brown according to their age. Grevillea lanigera [Section 25] is a dense groundcover well covered with pink and cream flowers. (Other banksias can be seen from this path.)
Across the next road which passes through lovely mottled white tree trunks, many grevilleas can be seen including Grevillea dielsiana [Section 26] is yet a small open shrub with fine divided prickly foliage and pendulous orange-red flower clusters. Behind the double seat Grevillea tripartita subsp. macrostylis [Section 26] has open erect branches with somewhat holly-like leaves and orange-red flowers with long red styles. Towards the next road Collie Grevillea, Grevillea ripicola [Section 24] is a dense spreading shrub with sharp pointed lobed leaves brightened with orange-red pendent flowers in terminal clusters.
Across the road, Correa 'Marian's Marvel' [Section 112] has pink and cream, almost bell shaped flowers dangling from the branches of this spreading shrub. Crossing the road, joining the winding path through the Sydney Region Gully, the shrubs are of many shades of green, of many shapes and sizes and of few flowers. They include Crowea exalata [Section 191h] being a small dense shrub clad with pink star shaped flowers. Almost opposite, Banksia ericifolia var. macrantha [Section 191s] which squeezes out from other shrubs. Its juvenile narrow flower spikes seem to be almost white with a green centre and will mature to a gold coloured flower spike. Near the ancient sandstone fossils in the rock wall, Epacris calvertiana var. calvertiana [Section 191j] has many upright branches clad with cream tubular flowers while, almost opposite Epacris longiflora [Section 191g] bears long slim tubular flowers. Black-eyed Susan, Tetratheca thymifolia [Section 191j] has dark centred pink downturned flowers over this low dense shrub. Behind the circular seat, almost out of view, Crowea saligna [Section 191u] is a low spreading shrub with bright green leaves and beautiful with deep pink star flowers.
Crossing the Eucalyptus Lawn where summertime concerts are held, through an area of wattles, all clad with buds, and across the road to an area of hakeas, where Hakea purpurea [Section 20] is a slim upright shrub bearing clusters of bright red flowers. The path then winds down to the Rock Garden which is always a valuable source of flowers including Thryptomene denticulata [Section 15s] with its low arching branches clad with pink flowers. In the small garden in front of the scenic pools below the waterfall above a shapely grasstree, Xanthorrhoea sp. [Section 15q], an emu bush, Eremophila oldfieldii subsp. angustifolia [Section 15v] has many prominent pale green calyces seen after the red tubular flowers have fallen.
Wander through the Rainforest then down the ramp where the Hairpin Banksia, Banksia spinulosa var. spinulosa [Section 210] with flower spikes coloured gold with dark styles. Westringia 'Smokie' [Section 210] resembles a hedge coloured grey-green with white flowers, a mint bush, Prostanthera phylicifolia [Section 210] is clad with mauve flowers and Eremophila maculata subsp. maculata [Section 210] reveals its bright yellow tubular flowers.
Wintertime … an enjoyable walk … Barbara Daly.
---
Updated 9 June, 2011 , webmaster, ANBG (anbg-info@anbg.gov.au)
---