---
---
In Flower this Week
A weekly news sheet prepared by a Gardens' volunteer.
Numbers in square brackets [ ] refer to garden bed Sections. Plants in flower are in bold type.
19 June 2009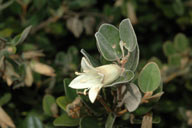 Correa 'Ivory Bells' - click for larger image
Enjoy the flowers from Banks Walk then view those in the Rock Garden. To arrive, follow the road bordering the far side of the Rain Forest, turning right when meeting the Main Path.
Facing the waterfall take the stairs in a clockwise direction where the Gymea Lily, Doryanthes excelsa [Section 15c] with large sward-like leaves and tall spikes tipped with tight buds are awaiting warmer days. In front dwarf size shrubs Leucopogon microphyllus [Section 15c] with dark foliage are massed with tiny white flowers. Coastal Banksia, Banksia integrifolia var. integrifolia [Section 15c] a semiprostrate dense shrub with dull green silver backed leaves and lemon upright cylindrical flower spikes mixing with many ageing spikes now growing towards the path. Opposite, Correa 'Ivory Bells' [Section 15d] is a large dense shrub spotted with dangling ivory coloured tubular flowers and many buds. Banksia 'Honeypots' [Section 15d] crowded beside the Correa, is a small upright shrub laden with colourful honey coloured flower spikes. Adenanthos x cunninghamii [Section 15d] is a small open upright plant attractive with slim shapely red tubular flowers, with leaves edging the stems. Edging the path to the left, Grevillea lanigera f. Bittangabee [Section 15c] crowded between rocks, is laden with cherry red flower clusters.
At the corner of this garden, Homoranthus darwinioides [Section 15f] has foliage coloured grey-blue and many rather unique cream flowers which redden on ageing. In the centre of this garden is an emu bush, Eremophila maculata var. brevifolia [Section 15f] a small manicured shrub clad with claret coloured tubular flowers. Grevillea lanigera [Section 15h] is a dense groundcover with an abundance of pink and cream spider flowers. This plant mixes with a wattle Acacia pravissima 'Kuranga Cascade' [Section 15h] well covered with its dull green foliage and many yet pale flower buds which is also edging the top road. Worth viewing Micromyrtus ciliata [Section 15g] are small shrubs now brick red which follow after tiny white flowers, sit above a rockface.
Before climbing the stairs a corner of colour included Brachyscome 'Breakoday' [Section 15a], a small matt-forming plant with small soft mauve daisy-like flowers. There too is Bulbine vagans [Section 15a] with succulent narrow leaves and yellow star flowers tipping the long succulent stems. Edging the stairs is Grevillea 'Mason's Hybrid' [Section 15h], a large spreading shrub behind the seat. The terminal red and cream flower spikes are being damaged by the frosts, like many other plants. Also at this upper corner Grevillea lanigera [Section 15h] is a spreading groundcover again displaying its pink and cream flowers. Along this upper road Cryptandra sp. [Section 15h] is a small shrub showered with small clusters of white flowers. It is overlooked by Eremophila oldfieldii subsp. angustifolia [Section 15h], an upright shrub with red tubular flowers and many prominent pale green calyces seen after the flowers have fallen.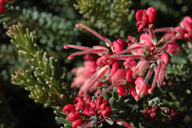 Grevillea lanigera - click for larger image
Taking the downward path between the grass trees, Xanthorrhoea johnsonii [Section 15j,14] to the right, Leucopogon fraseri [Section 15k] is a small spreading shrub dense with tiny pink tubular flowers. To the left Banksia 'Birthday Candles' [Section 15l] is a dense dwarf shrub, falling over the rock wall, revealing its colourful gold flower spikes with dark styles. Almost opposite a bed clad with Scleranthus biflorus [Section 15n]. This spreading moss-like cushion plant enjoys moisture, sunshine and rocks to cling to. Almost opposite, Banksia 'Cape Patterson Dwarf' [Section 15Q], seen beside the path, has small lemon flower spikes ribbed with brown styles.
Returning to the downward path, Grevillea maxwellii [Section 15p] conceals its dark red flower spikes below the foliage of this semi-prostrate plant. Eremophila bignoniiflora x polyclada [Section 15r] has many large white bugle shaped flowers with dotted dark throat over this large spreading shrub.
Fog, sunshine, a pleasant walk … Barbara Daly
---
Updated 25 June, 2009 , webmaster, ANBG (anbg-info@anbg.gov.au)
---