---
---
In Flower this Week
A weekly news sheet prepared by a Gardens' volunteer.
Numbers in square brackets [ ] refer to garden bed Sections. Plants in flower are in bold type.
12 June 2009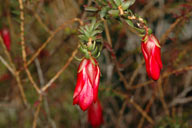 Darwinia macrostegia - click for larger image
The road to the Gardens is attractively edged with the prostrate Coast banksia, Banksia integrifolia with lemon coloured upright cylindrical flower spikes among its silver backed matt green leaves and Banksia spinulosa 'Birthday Candles' with bright green leaves and gold flower spikes. Outside the Information Centre doors in pots the native Rhododendron lochiae with shiny dark green leaves has increasing numbers of lovely red bell shaped flowers. Beside is Grevillea leptobotrys a dwarf plant with an entanglement of branches and attractive drooping pink flower rods. The Sturt's Desert Pea, Swainsona formosa, in pots edging Banks Walk, continues to bear its large black centred red pea shaped flowers.
Many plants are in flower including Darwinia macrostegia [Section 174] a fairly open shrub attractive with short leaves and dangling dark red slim flower buds, along Banks Walk. Following the path opposite to view an emu bush, Eremophila maculata subsp. maculata [Section 210] a spreading shrub bearing bright yellow tubular flowers. Another plant worth finding is Astroloma foliosum [Section 60] a semiprostrate small plant dense with short pointed pine-like leaves and short red tubular flowers tipped black. To view, follow the winding path down from the bridge to the very end of this garden.
Follow the road edging the Rainforest Gully where Grevillea rosmarinifolia 'Rosy Posy' [Section 128] is a small dense shrub with clusters of pink-cream flowers. Following the road to the right towards the Brittle Gum, Eucalyptus mannifera [Section 10] with mottled white trunk and spreading limbsbelow which is a group of Thryptomene 'Pink Lace' [Section 10] with graceful arching branches clad with tiny pink flowers. Almost opposite is Correa pulchella 'Pink Mist' [Section 119] bearing its dangling tubular pink flowers from fairly bare upright branches. Other shrubs to the right off this road are Baeckea crassifolia [Section 10] pretty with its small upright branches clad with tiny pink flowers and Beaufortia decussata [Section 10] which has few long branches clad with small orderly leaves and few dark red bottlebrush-like flowers along the branches.
Continuing along the road edging the Rainforest Gully where an emu bush, Eremophila oldfieldii subsp. angustifolia [Section 302] is a small shrub with fine leaves and peach coloured tubular flowers. Aotus ericoides [Section 4] is a small heath-like plant with spreading branches clad with small pea shaped flowers coloured yellow and red. The path now curves right in front of the waterfall in the Rock Garden so worth a visit, passing Thryptomene denticulata [Section 15s] with graceful arching branches of tiny pink flowers. Leaving this section where Kunzea pulchella [Section 15r] is fairly dense with grey-green foliage and an occasional cherry red bottlebrush-like flower.
Continue along this Main Path branching to the left at the crossing through areas of wattles few of which are yet flowering. They include Acacia parvipinnula [Section 18], a tree of medium size bearing many soft cream fluffy flower balls. Almost opposite is a smaller wattle, Acacia o'shanesii [Section 3] with pale yellow flower balls.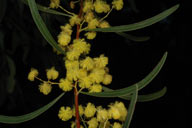 Acacia gladiiformis - click for larger image
In front of the old nursery site the garden surrounding a toilet block includes
Leptospermum squarrosum
[Section 44] a shrub of medium size bearing soft pink open flowers. In front edging the road the small
Brachyscome 'Roulette'
[Section 44] has soft fine foliage and bright mauve daisy-like flowers. At the back of this area
Epacris longiflora
[Section 44] presents as a hedge with an entanglement of branches bright with its small red tipped white tubular flowers. These flowers are plentiful throughout this section. The Sward Wattle,
Acacia gladiiformis
[Section 44] is a upright shrub with rather thick leathery leaves and branches crowded with large yellow flower balls.
Epacris reclinata (Blackheath)
[Section 44] has soft pink tubular flowers with white mouth over this small shrub. So, down the stairs to the Eucalyptus Lawn. At the corner
Morinda jasminoides
[Section 44] is a vigorous creeper laden with prominent orange fruits which followed after its white flowers.
An enjoyable walk for this cold wintery day … Barbara Daly.
---
Updated 12 June, 2009 , webmaster, ANBG (anbg-info@anbg.gov.au)
---