---
---
In Flower this Week
A weekly news sheet prepared by a Gardens' volunteer.
Numbers in square brackets [ ] refer to garden bed Sections. Plants in flower are in bold type.
5 June 2009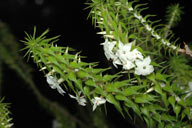 Wollsia pungens - click for larger image
Our fair city is so colourful with the yellow of falling autumn leaves. The Gardens too are colourful with flowers, so this very short walk which has so much colour can also be found throughout this area.
Starting at the Visitors Information Centre doors, where a pot containing North Q'ld Rhododendron lochiae, which is a lush dark green shrub with the first of its lovely red bell shaped flowers is displayed. Beside is Grevillea leptobotrys, a dwarf spreading shrub with slender entangled branches and attractive pink flower rods. Opposite a climber Pandorea jasminoides continues to reveal its large dark centred pink trumpet shaped flowers among its shiny dark green leaves.
Walking along Banks Walk, Banksia spinulosa 'Birthday Candles' [Section 172] is yet a small dwarf spreading shrub with few upright cylindrical gold flower spikes ribbed with red styles. Sturt's Desert Pea, Swainsona formosa [Section 172, 210] with its long grey trailing stems and large black centred red pea-shaped flowers can be admired, in pots beside the Banks sculpture and later on a stand on Banks Walk. Beside the seat Woollsia pungens [Section 174] is an erect shrub with regular short prickly leaves edging the stems with terminal small white flower spikes. Somewhat similar is the Victorian floral emblem, Epacris impressa [Section 174] which bears its small cherry coloured tubular flowers in rows pendent from the wiry branches. Epacris longiflora [Section 174], close by differs with longer slim white tubular flowers. Hibbertia vestita [Sections 174, 210] is a neat prostrate shrub with dark green leaves brightened with yellow open flowers. Thryptomene denticulata [Section 174] has tiny pink flowers edging its graceful arching branches of this open shrub. Opposite, a mint bush, Prostanthera phylicifolia [Section 210] is a dense shrub bright with violet flowers as it cascades over the rock wall.
The curved end of this garden is bright with the warm pink star flowers of Crowea 'Festival' [Section 174]. From the lower path it is worth viewing Eucalyptus 'Wildfire' [Section 174] because of its many large shapely fruits which followed its attractive flowers. In the crescent garden Hibbertia kaputarensis [Section 174], with bright yellow flowers is snug beside Grevillea nudiflora [Section 174], a dense prostrate trailing plant with narrow foliage and clusters of small red and yellow flowers. At the entry to the bridge over the Rainforest Gully the pleasant perfume pervading the atmosphere is that of Asterotrichion discolor [Section 66], a small tree with hairy foliage and small white flowers.
In the Ellis Rowan Garden past the café building, Banksia 'Stumpy Gold' [Section 131] is a spreading dwarf shrub with many flower spikes coloured gold with red styles covers a corner. Epacris 'Nectar Pink' [Section 131] has pink flowers with white mouth on this scraggy plant while opposite a group of Crowea 'Cooper's Hybrid' [Section 240] is dense with many deep pink star flowers to brighten the shrubs. At the end of the garden, surrounding a tree, a wattle, Acacia alata var. biglandulosa [Section 240] is a dense spreading shrub clad with cream fluffy flower balls attached to its unusual zigzag branches.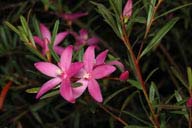 Crowea 'Cooper's Hybrid' - click for larger image
Continue to the right down the patch to find, fronting the Education Centre, Banksia 'Giant Candles' [Section 310], a large spreading shrub displaying rich gold elongated flower spikes. Compare it with Banksia ericifolia [Section 239], almost opposite, so dense with shorter gold flower spikes.
Flowering shrubs continue throughout the Gardens seen from any path anywhere, or else, back in the warmth of the coffee shop .
Barbara Daly
---
Updated 5 June, 2009 , webmaster, ANBG (anbg-info@anbg.gov.au)
---