---
---
In Flower this Week
A weekly news sheet prepared by a Gardens' volunteer.
Numbers in square brackets [ ] refer to garden bed Sections. Plants in flower are in bold type.
22 May 2009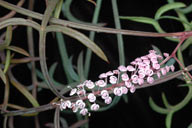 Grevillea leptobotrys - click for larger image
This week's walk is along the Banks Walk, then back past the bus stop. The beds on Banks Walk have been planted to show that native plants can make a beautiful display.
To the right of the top of the Cascades near the Visitors' Centre is Blue Lechenaultia Lechenaultia biloba [Section 208], a small plant with blue-mauve fan flowers. In front of the Visitors' Centre door is a pot with Tangled Grevillea Grevillea leptobotrys [Section 221], a trailing plant with trusses of scented pink flowers. At the end of the building, on the right, is Villous Mint Bush Prostanthera densa, a small straggly shrub with pinky mauve lipped flowers.
Continue ahead on the Banks Walk. On the right by the bust of Sir Joseph Banks are two pots of Sturt's Desert Pea Swainsona formosa [Section 172], trailing plants with large red flowers with black bosses in the middle. There is sign with an explanation of their pollination. A little farther on, on the right is Monderup Bell Darwinia macrostegia [Section 174], a small spindly shrub with red bells just coming out. Snow Wreath Woollsia pungens has many small white star flowers along the stems and prickly leaves. Common Heath Epacris impressa has pink tubular flowers along the upright stems. This is the floral emblem of Victoria. Fuchsia Heath Epacris longiflora (white form) has long tubular flowers. Across the path on your left is Spiked Mint Bush Prostanthera phylicifolia [Section 210], a dense low shrub with many mauve flowers. A little farther on, on your right is Thryptomene denticulata [Section 174], an open shrub with many small pink flowers on drooping branches. At the corner before the steps on your right is a group of Crowea 'Festival', small dense shrubs with large lipstick pink star flowers.
Go down the steps. Straight in front of you is a small island bed. Here are a Guinea Flower Hibbertia kaputarensis [Section 174], a low shrub with large yellow flowers, and on the far side of the bed Grevillea nudiflora, a dense prostrate shrub with curved narrow leaves and small groups of red flowers.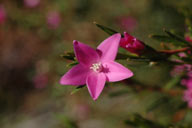 Crowea 'Festival' - click for larger image
On the way to the bus stop are two groups of low plants with mauve daisy flowers, Brachyscome 'Breakoday' and Brachyscome 'Roulette' [Section 174]. Behind them is a large shrub, Banksia ericifolia 'Red clusters', with large long orange candles. Just past the bus stop is a straggly shrub with narrow green branchlets. This is a She Oak Allocasuarina littoralis, with small dark red female flowers, and many obvious cones.
Past the steps is Hakea 'Burrendong Beauty' [Section 221], a prostrate shrub with crimson pin cushions with pale pink 'pins'.
Betty Wood
---
Updated 21 May, 2009 , webmaster, ANBG (anbg-info@anbg.gov.au)
---