---
---
In Flower this Week
A weekly news sheet prepared by a Gardens' volunteer.
Numbers in square brackets [ ] refer to garden bed Sections. Plants in flower are in bold type.
13 March 2009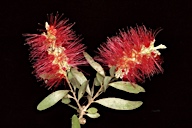 Callistemon citrinus - click for larger image
Tis Seniors Week. This walk follows the Main Path which has no stairs but there are many walks with stairs throughout the Gardens for those who wish to go elsewhere. This walk is a pleasant walk passing through the white trunks of our eucalypts, it follows a path meandering through the Sydney Basin area, the Rock Garden and finally through the Rainforest Gully. So, starting at the far end of the Café building, not missing the Sturt's Desert Peas, Swainsona formosa with large dark centred red pea-shaped flowers in pots along Banks Walk. Banksias are again displaying their buds and many bottlebrushes are again blooming.
Callistemon chisholmii [Section 11,10] is a tall shrub with soft pink bottlebrush flowers on the arching branches. Off the path the large Callistemon citrinus [Section 9] is afire with red bottlebrushes while the Garden of Daisies is yellow including Chrysocephalum semiamplexicaule [Section 303] with tiny heads of yellow-orange flowers on long angular stems. Opposite the next seat the large shrub, Grevillea phanerophlebia [Section 30] has a covering of white lacy flowers among the fine prickly foliage. Banksia 'Honeypots' [Section 30], in front, is a small shrub with long upright cylindrical gold flower spikes while opposite, Banksia 'Birthday Candles' [Section 30] is a dwarf spreading shrub, its dull gold floral spikes not quite mature. Grevillea 'Bronze Rambler' [Section 30] a dense groundcover with bronze new branch tips and burgundy coloured toothbrush-like flowers. At the corner (and beside the drive to the Garden gates) Banksia integrifolia subsp. integrifolia [Section 30] is a prostrate shrub with silver backed leaves and many cream flower spikes. Opposite, Grevillea acanthifolia var. acanthifolia [Section 27] is a low shapely shrub with short divided spiky foliage and pink toothbrush-like flowers along its arching branches.
Other grevilleas will be seen along this path with eucalypts displaying their mottled grey tree trunks to enjoy. Pass by the ageing Banksia conferta subsp. penicillata [Section 26] a large shrub with many greenish-yellow flower spikes mixed with dark spent flower ones.
At the next corner are a grouping of small Crowea exalata shrubs [Section 112] clad with small pink star-shaped flowers. Correa 'Marian's Marvel' [Section 112] has many tube shaped flowers coloured pink and cream seen throughout the spreading shrub. Strolling through the Sydney Basin, Leptospermum crassifolium [Section 191s] is a slim upright plant with branches clad with white open petalled flowers. Banksia spinulosa [Section 191s,191p] is laden with long upright, still juvenile dull gold flower spikes. Hibbertia pedunculata [Section 191s] is a dense groundcover bright with yellow open flowers. Towards the centre of this section Eucalyptus gummifera [Section 191p] displays its many clusters of cream fluffy flowers above other shrubs. Acacia linifolia [Section 191e] is yet a small tree with fine foliage and sprays of aromatic cream fluffy flower sprays. Behind the circular seat Crowea saligna [Section 191u] is a low spreading shrub with bright pink star-shaped flowers.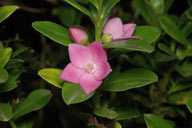 Crowea saligna - click for larger image
Cross the Eucalyptus Lawn down to the Rock Garden of many interesting plants. Opposite the waterfall Scaevola albida var. albida [Section 4] is a semi-prostrate plant well covered with white fan-shaped flowers while in the small garden are numerous emu- bushes including Eremophila latrobei subsp. latrobei [Section 15v] an attractive shrub with grey-green foliage and cherry-red tubular flowers. Lythrum salicaria [Section 191q] adds colour to this lovely scene, with its upright branches of pink flowers.
And so to the cool, pleasant Rainforest Gully with no visible flowers but with all shades and shapes of green foliage. Then down the ramp of other flowers to the Information Centre with the coffee shop not far away.
Yes, an enjoyable walk … Barbara Daly.
---
Updated 23 March, 2009 , webmaster, ANBG (anbg-info@anbg.gov.au)
---