---
---
In Flower this Week
A weekly news sheet prepared by a Gardens' volunteer.
Numbers in square brackets [ ] refer to garden bed Sections. Plants in flower are in bold type.
6 March 2009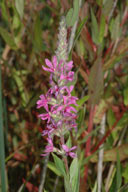 Lythrum salicaria - click for larger image
Beside the doors of the Visitors Information Centre the pots containing Rhododendron lochiae with few of its lovely bell shaped tangerine coloured flowers and the Sturt's Desert Pea, Swainsona formosa with its long flowering large dark centred red pea-flowers are a great welcome to the Gardens. Now flowers in the Rock Garden will be admired.
Start at the base of the waterfall, walking in a clockwise direction. About 20m to the left the very large dense shrub laden with lime coloured upright cylindrical flower spikes is that of Banksia aemula [Section 15c]. In the small garden in front of the waterfall an emu bush, Eremophila latrobei var. latrobei [Section 15v] is decorated with cherry red tubular flowers over the open shrub. Ascending the stairs Hibbertia pedunculata [Section 15d] is a prostrate plant dotted with bright yellow flowers, crowded between the rocks and path. Flowing down the slope to the waterfall, Grevillea 'Poorinda Royal Mantle' [Section 15d] is so dense with red toothbrush-like flowers for decoration. Looking down, the pink flowers on long upright stems seen between the rocks are those of Lythrum salicaria [Section 15q]. These are seen in other parts of the gardens too. Banksia integrifolia subsp. integrifolia [Section 15c] is a prostrate shrub dense with silver backed leaves and many cream flower spikes edges and invades the path (This plant also is obvious beside the drive up to the entrance gates).
Chrysocephalum semiamplexicaule [Section 15d] has dazzling button-size orange and yellow flowers over the mostly upright spreading plant. The Garland Lilly, Calostemma purpureum [Sections 15 b,f] has long stems tipped with 10 or more pink trumpet-like flowers. Halgania cyanea var. tuberculosa [Section 15g] has deep blue flowers on this small open shrub while in the next bed, Dampiera stricta [Section 15f] has another shade of blue flowers on upright stems of this suckering plant. Almost opposite a Bluebell, Wahlenbergia ceracea [Section 15m] is a spreading herbaceous plant with soft blue flowers which open on sunny days. Opposite, Solanum sturtianum [Section 15g] is an erect plant tipped with deep purple open flowers and grey-green foliage. Retrace your steps to the beginning of path that runs between sections g and h. In front of you, Grevillea lanigera [15h] is another dense groundcover clad with cream and pink spider-like flowers. Eucalyptus morrisbyi [Section 15h] lowers its branches with a profusion of cream fluffy flowers scattered among the leaves, over the bank. Along to the right, Beaufortia sparsa [Section 15h] has brilliant reddish bottlebrush flowers on this small shrub.
Retrace your steps again and turn right up the stairs to the road. Edging the stairs Grevillea 'Mason's Hybrid' [Section 15h] has long spreading branches with terminal clusters of pink and cream flowers. Along this road the Pale Vanilla lily, Arthropodium milleflorum [Section 15h] has long graceful flower spikes bearing small pale white-petalled flowers with iris-like leaves. Scaevola albida var. albida [Section 15h] is low and spreading with white and mauve fan-shaped flowers, falling towards the path. Beside, Dampiera sylvestris [Section 15h] is a suckering plant with upright stems tipped with blue flowers. Edging the corner of the downward path, a Grevillea hybrid [Section 15j] is also dense with cherry red flowers and red-tinted new growth. Brunoniella australis [Section 15j] is a tiny herbaceous plant with soft blue flowers.
Take the next path to the right between grass trees, Xanthorrhoea johnsonii [15j,14] and down, passing Hibbertia vestita [Section 15k], a dense shrub with bright yellow flowers over the foliage which falls over the wall onto the narrow path. Around the next corner to the right, Banksia 'Birthday Candles' [Section 15l] is a dense dwarf shrub with a profusion of slim gold juvenile flower spikes. Continuing down, emubush Eremophila christophori [Section 15r] has a scattering of small mauve tube-shaped flowers decorating this upright shrub and further down Eremophila bignoniiflora x polyclada [Section 15r] is of medium size, leaning over, with large white bugle-shaped flowers with dotted throat. Then down the stairs to the rocky pool with water dragons of all ages and sizes.
Rock Gardens, a place to enjoy … Barbara Daly.
---
Updated 13 March, 2009 , webmaster, ANBG (anbg-info@anbg.gov.au)
---