---
---
In Flower this Week
A weekly news sheet prepared by a Gardens' volunteer.
Numbers in square brackets [ ] refer to garden bed Sections. Plants in flower are in bold type.
27 February 2009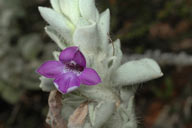 Eremophila warnesii - click for larger image
Flowers along Banks Walk are so colourful. In fact colourful flowers continue throughout the Gardens including the Mallee section which contains species of South and Western Australia seen above the old nurseries (see map overleaf). Edging the road groundcovers include Chrysocephalum apiculatum [Section 300] with either green or grey foliage tipped with clusters of small orange-yellow flower heads and Brachyscome multifida 'Breakoday' [Section 300] with small daisy-like mauve flowers. Opposite is a dense patch of Rutidosis sp. [Section 100b] a groundcover with small button size yellow flowers on upright stems.
Entering the mallee section plants at the corner of the road include emu bushes Eremophila warnesii [Section 100b] almost prostrate with thick grey hairy stems and leaves, usually with one large purple bugle shaped flower and Eremophila weldii [Section 100b] a low but softer spreading plant with small purple flowers. Halgania anagalloides var. preissiana [Section 100b] a dwarf upright shrub with deep blue flowers.
Taking the boardwalk in an anticlockwise direction Prostanthera calycina [Section 100a] is a small shrub with tube shaped cerise coloured flowers while Hemiandra pungens [Section 100a] is a prostrate spreading plant scattered with small pink trumpet shaped flowers. Billardiera lehmanniana [Section 100a] is a dense twining vine displaying small white star flowers while beside (and elsewhere) Lechenaultia biloba [Section 100a] displays its pale blue flowers on short upright stems. Behind, the Blue Grass Lily, Agrostocrinum scabrum [Section 100a] has short strappy leaves crowding the lovely blue star flowers rising above the foliage. In the valley the lovely Grevillea dielsiana [Section 100a] reveals its pendulous clusters of orange-yellow flowers among the prickly foliage. Continuing along the boardwalk, Eremophila bignoniiflora x polyclada [Section 100b] has long rambling branches with large bugle-shaped flowers coloured pale mauve with speckled throat. A group of Beaufortia orbifolia [Section 100b] are upright shrubs clad with tiny leaves and terminal bottlebrush-like flowers of red with green base.
At the curve Thomasia petalocalyx [Section 100a] is a medium dense shrub clad with small downturned pink flowers while opposite Hypocalymma sp. [Section 100c] bears tiny pink lacy flowers clustered along the low terminal branches. Past the curve some small upright trees, Eucalyptus lansdowneana subsp. lansdowneana [Section 100a] topped with deep pink fluffy flowers, can be seen. Verticordia monadelpha [Section 100a] is crowned with a coverage of pink frilly flowers mixing with its dark red buds over this upright shrub. About there, Banksia ornata [Section 100a] displays its serrated leaves mixed with deep cream dotted grey flower spikes above other shrubs. Olearia muricata [Section 100c] has a crown of small white daisy-like flowers over this small tufted plant while Correa 'Kangaroo Island' form [Section 100a] with tube shaped red and dusky yellow flowers over a medium size shrub almost crowded by another shrub.
At the exit Eremophila microtheca [Section 100a] is a small upright shrub bearing small lilac coloured tube shaped flowers while opposite Lambertia ericifolia [Section 100c] is a many branched tall shrub bright with well-designed orange-red tube shaped flowers. Opposite the exit Banksia ericifolia [Section 103] displays its many yet juvenile gold upright flower spikes about its large spreading shrub.
Worth the walk … Barbara Daly.
---
Updated 27 February, 2009 , webmaster, ANBG (anbg-info@anbg.gov.au)
---