---
---
In Flower this Week
A weekly news sheet prepared by a Gardens' volunteer.
Numbers in square brackets [ ] refer to garden bed Sections. Plants in flower are in bold type.
20 February 2009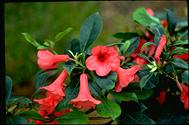 Rhododendron lochiae - click for larger image
The gardens too enjoy the cooler weather. Banksias are laden with buds and bottlebrushes are blooming again. Outside the Visitors Information Centre in a pot Rhododendron lochiae is again showing off its lovely bugle-shaped red flowers scattered about the low spreading foliage. Over the path Pandorea jasminoides [Section 212] continues to be showy with its pink flowers over the dense climber. Sturt's Desert Pea, Swainsona formosa continues to bear its renowned dark centred red pea-shaped flowers in pots along Banks Walk, which is brightened with Hibbertia vestita [Section 174] with open yellow flowers over the prostrate plant. At the far end of Banks Walk Pelargonium rodneyanum [Section 174], a low trailing plant is bright with magenta coloured flowers. From the lower path Eucalyptus ficifolia [Section 174] is a small tree still with few red- orange fluffy flowers to admire.
Following the road beside the Rainforest, Swamp Lily Crinum pedunculatum [Section 125] is a large bulbous plant with thick large leaves and atop its thick upright stems are sprays of long fine white petalled flowers. The opposite corner is clad with a ground-cover Grevillea 'Poorinda Royal Mantle' [Section 124] so dense with red tooth-brush flowers, a bottlebrush, Callistemon 'Howie's Fire Glow' [Section 124] is tall and picturesque with red bottlebrush flowers. Close by Callistemon 'Rose Opal' [Section 124] is of similar size, its rose coloured bottlebrushes on willowy branches. Opposite, Correa alba var. alba [Section 126] has white star flowers over this dense spreading shrub. At the end of this road patch of Scaevola albida [Section 124] has small mauve fan-shaped flowers dense with its green ground-cover plant.
Turn left, noticing the enormous Eucalyptus mannifera [Section 10] with its snowy trunk and branches. A flax lily, Dianella caerulea var. vannata [Section 302] is a tufted herb dense with narrow upright leaves and dark blue buds on top of long bare stems. After flowering attractive blue fruits form. In front of the toilet block Correa glabra var. glabra [Section 117] has many pendent pink with lemon mouth tubular flowers over this low spreading shrub. Edging the path Myoporum parvifolium [Section 117] has small white flowers on this prostrate plant with trailing stems over the side of the rock wall. Opposite are numerous emu-bushes which include Eremophila polyclada [Section 302] being a small shrub with short fine foliage and white bugle shaped flowers tinted mauve and with a spotted throat, seen against the rock wall. Further back Eremophila calorhabdos [Section 302] has few tall upright branches crowded with short leaves and tipped with red tubular flowers clinging to the branches.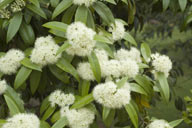 Backhousia citriodora - click for larger image
Turn left where Grevillea 'Robyn Gordon' [Section 109] edges the Brittlegum Lawn. This plant is low and spreading. Its leaves are divided and its terminal flowers are red-yellow. Take this woodland path up to the Main Path where, behind the notice, Eucryphia wilkiei [Section 109] displays its open cup shaped cream flowers on the open shrub. Across the path, the Lemon Ironwood, Backhousia citriodora [Section 78] is tall and slim crowded with lemon scented foliage and crowned with dense clusters of white fluffy flowers. Towards the Rock Garden, Banksia aemula [Section 15c] is quite a large dense shrub laden with lime green large cylindrical upright flower spikes. In front of the Rock Garden waterfall a bed containing other emu-bushes, include Eremophila christopheri [Section 15v]. Amid the rocks are Lythrum salicaria [Section 15q] water-loving upright plants clad with pink flowers. There are many other flowers in this area to discover.
Good walking, great flowers … Barbara Daly.
---
Updated 23 February, 2009 , webmaster, ANBG (anbg-info@anbg.gov.au)
---