---
---
In Flower this Week
A weekly news sheet prepared by a Gardens' volunteer.
Numbers in square brackets [ ] refer to garden bed Sections. Plants in flower are in bold type.
14 November 2008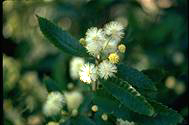 Callicoma serratifolia - click for larger image
The display of Sturt's Desert Pea, Swainsona formosa, inside the Visitors Centre are worthy of examination for the coloured flowers differ to those along Banks Walk. Also worth seeing is the enclosure of daisies near the Rock Garden which will be included in this walk.
Waratahs have finished flowering but Gymea Lilies are at their best. So are bottlebrushes. From Banks Walk follow the path to the left to view Boronia 'Carousel' [Section 210] a shrub of medium size clad with downturned 'cup' shaped magenta coloured flowers. Beside is a teatree, Leptospermum 'Merinda' [Section 210] with similar coloured open flowers. Hibbertia fasciculata [Section 210] is a dwarf mounding plant prominent with bright yellow flowers, edging the path.
Returning to the road below which edges the Rainforest. At the base of the stairs Grevillea 'Bonfire' [Section 210] has long arching branches with fine divided leaves and cherry red curvaceous flowers mostly in clusters. Following this road a grouping of Pimelea ferruginea 'Magenta Mist' [Section 182] are small plants with upright branches tipped with rounded clusters of magenta coloured flowers. Edging the Rainforest, the Black Wattle, Callicoma serratifolia [Section 125] is a tall shrub clad with shiny serrated leaves and clusters of fluffy cream flower balls. Native Elderberry, Cuttsia viburnea [Section 125] is a large dense shrub also with shiny serrated leaves and with a profusion of large sprays of buds now developing into small flowers. The Q'ld Frangipani, Hymenosporum flavum [Section 125] has large open white flowers ageing to yellow over this tall open shrub.
The corner opposite is covered densely with ground-cover, Grevillea 'Poorinda Royal Mantle' [Section 124] brightened with scarlet toothbrush-like flowers. Close by a grouping of teatree, Leptospermum 'Tickled Pink' [Section 124], small shrub clad with soft open flowers. Mixing with them is Leptospermum 'Outrageous' [Section 124] with bold pink flowers. Covering a mound of rocks, the native violet, Viola hederacea [Section 104] is quite dense with a profusion of white and mauve flowers. Following the Main Path to the right, a scattering of herbs, Plectranthus nitidus [Section 110] with felt-like green foliage and spikes of pale blue flowers. At the Rock Garden, Gymea Lily, Doryanthes excelsa [Section 15c] has its renowned cluster of red flowers on top of an elongated stem surrounded by long strappy leaves. At its base, Derwentia perfoliata [Section 15c] is a dense spreading vine covered with sprays of blue flowers. Before following the path to the right continue past the waterfall and sunbaking water dragons to view the garden of colourful daisies … a photographers delight.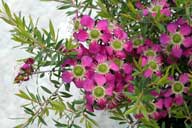 Leptospermum 'Tickled Pink' - click for larger image
At the corner bottlebrush Callistemon subulatus [Section 110] is a low dense shrub with short red bottlebrush flowers. a wilga, Geijera parviflora [Section 4] is a large dense shrub with weeping habit containing small white flowers mingling with the long slim leaves. Opposite, Callistemon 'Glasshouse Country'[Section 110] stands tall covered in profusion with pink bottlebrushes. Close to the road Callistemon recurvus [Section 110] is tall with arching branches of short red flowers. Goodia ovata [Section 124] is a suckering plant sprinkled with yellow flowers, surrounding the large trunk of a she-oak. Further downhill a Geraldton Wax, Chamelaucium 'Murfit Rose' [Section 117] a slim plant decorated with soft pink flowers, leans towards the road while at the corner, Callistemon 'Harkness' [Section 124] is a tall shrub with bright red bottlebrushes dangling from its willowy branches. The opposite corner Melaleuca fulgens [Section127] is a low open shrub revealing its deep salmon coloured bottlebrush flowers.
Such colourful flowers … Barbara Daly.
---
Updated 17 November, 2008 , webmaster, ANBG (anbg-info@anbg.gov.au)
---