---
---
In Flower this Week
A weekly news sheet prepared by a Gardens' volunteer.
Numbers in square brackets [ ] refer to garden bed Sections. Plants in flower are in bold type.
7 November 2008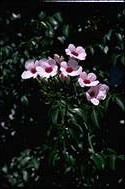 Pandorea jasminoides - click for larger image
This walk concentrates on the beautiful flowers around the Visitors Centre and along Banks Walk to the bridge to the café building. The display of Sturt's Desert Pea, Swainsona formosa and everlasting daisies inside the Visitors Centre, complete with the red sand of Australia's interior is so realistic. Sturt's Desert Pea and daisies in pots edging Banks Walk are so colourful.
So, from the doors of the Centre, turn left where on the opposite wall, Pandorea jasminioides shows the first of many pink trumpet-like flowers. Edging the Friends Cascades Lechenaultia biloba 'White Flash' [Section 221] is a small upright plant with white centred blue flowers. Behind Pycnosorus globosus [Section 221] has yellow flower heads on upright stems. The long hairy brown trunk of the Stringybark She-oak, Allocasuarina inophloia [Section 221] is quite attractive while at the base of the stairs a grouping of Pimelea ferruginea 'Magenta Mist' [Section 224] is also attractive with the small shrubs clad with flower clusters. Above those stairs Solanum sturtianum [Section 221], surrounded by strappy plant clusters, reveals its deep purple open flowers, with yellow centre, on upright stems. An Emu Bush, Eremophila mackinlayi subsp. spathulata [Section 221] spreads its grey branches bright with large purple tubular flowers close to the ground. The path overlooks a grouping of Homoranthus species [Section 222] all are low growing and seem to have a flattened top with flowers coloured lemon and deeper shades of lemon. The colourful row of daisies include the yellow flowers of Schoenia cassiniana [Section 221] edge the path and can be seen throughout the Gardens.
Ascend the stairs where Chrysocephalum semipapposum [Section 221] arranges its small clusters of yellow globular flower heads on erect stems. Melaleuca fulgens [Section 172] is a small open shrub with coral shaded bottlebrush-like flowers while at the top and to the right, Podolepis monticola [Section 172] is a dwarf plant with large leaves surrounding upright stems of frilly yellow daisy-like flowers. Opposite a row of Alyogyne huegelii [Section 210] displays its hibiscus-like mauve flowers with white throat over the open shrub. Beside is Leptospermum 'Merinda' [Section 210] clad with many buds which open to magenta coloured open flowers.
Surrounding Joseph Balks sculpture are some large pots of those fascinating pea-shaped flowers coloured deep red with black throat of the Sturt's Desert Pea [Section 174]. Behind the notice a tea-tree, Leptospermum 'Tickled Pink' [Section 174] is clad in profusion with deep pink flowers while close by Mondurup Bell, Darwinia macrostegia [Section 174] is an open shrub with large red and white streaked bell-like flowers. A Kangaroo Paw, Anigozanthos 'Bush Glow' [Section 174] has short strappy leaves with a long stem tipped with a shade of orange flowers not quite open. Epacris longiflora [Section 174] has long wandering stems crowded with small leaves and with white narrow tubular flowers in rows towards the tips.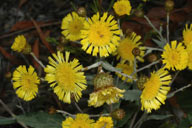 Podolepis monticola - click for larger image
Opposite, Alyogyne 'West Coast Gem' [Section 210] is a large shrub displaying its purple hibiscus shaped flowers while beside is a wattle Acacia dempsteri [Section 210] also a large shrub with branches laden with large firm yellow flower balls. Isopogon 'Little Drumstick' [Section 210] shows off its yellow 'drumstick' flowers over the low dense shrub. Beside this waterfall, shared with water dragons of all sizes, is Grevillea 'Bonfire' [Section 210] with long branches clad with fine divided leaves and cherry red curvaceous flowers, mostly in clusters. Opposite, another teatree, Leptospermum 'Outrageous' [Section 174] is another dense shrub prolific with 'Outrageously red' open flowers. Facing Banks Walk close to the bridge the large shrubs, Olearia argophylla [Section 305] are showy with a coverage of white daisies.
Now that is a lot of colour. Hope they are all found … Barbara Daly.
---
Updated 10 November, 2008 , webmaster, ANBG (anbg-info@anbg.gov.au)
---