---
---
In Flower this Week
A weekly news sheet prepared by a Gardens' volunteer.
Numbers in square brackets [ ] refer to garden bed Sections. Plants in flower are in bold type.
31 October 2008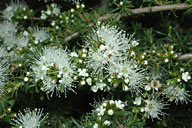 Kunzea ambigua - click for larger image
The flowering shrubs in the Gardens have never been so prolific. Banks Walk is ablaze with flowers, including Sturt's Desert Pea, Swainsona formosa [Section174] with its large dazzling black centred red pea-shaped flowers, in large pots. But don't stop there because the range of colourful flowers edging the Main Path is truly magnificent. This walk will focus on a selection of eye-catching flowers.
Starting at the far end of the café building, Kunzea ambigua [Section 12] is a low spreading shrub clad with white fluffy flowers. Pass below the large curvaceous paper bark branches of melaleucas to view Melaleuca fulgens 'Hot Pink' [Section10] is dazzling with its bright pink flower clusters while Melaleuca spathulata [Section 9] covers its shrub with pinkish-purple flower clusters. Bulbine glabra [Sections 303, 8] a herb with succulent leaves surrounding the yellow flowers on upright stems while Rice Flower, Ozothamnus diosmifolius [Section 303,191j] has pinkish flower heads over this many-branched shrub.
In front a bed of waratahs include Telopea 'Canberry Gem' [Section 30] presents its well-known flower heads on long upright stems. Close by Alyogyne huegelii [Section 30] is a large rounded shrub with vivid white hibiscus-like flowers. Walking on, a scattering of Isopogon anethifolius [Section 25,26], erect shrubs with divided leaves and heads of yellow 'drumstick' flowers. Many grevilleas grow along this path, including Grevillea acanthifolia subsp. acanthifolia [Section 27], an open shrub with spiky foliage and pink toothbrush-like flowers. Grevillea 'Bonfire' [Section 24] on either side of the seat, is tall and dense with lovely waxy red curvaceous flowers amid the soft foliage. Banksia blechnifolia [Section 26], behind the next seat, is a prostrate plant dense with upright deeply lobed grey-green leaves which almost conceal the cylindrical upright rust-red flower spikes both which seem to rise from the ground. Telopea speciosissima [Section 26], behind other shrubs shows its brilliant red flower heads.
Follow the winding path through the Sydney Region Gully, Eriostemon australasius [Section 191h] is a small neat shrub clad with pinkish white yet closed buds with few open flowers. Boronia pinnata [Section 191h] is a small spreading shrub, seen behind the yellow pea-flowering shrub, with bright pink star shaped flowers, seen behind the yellow pea-flowering shrub. Dampiera purpurea [Section 191s] is upright and tipped with rich blue flowers while Black-eyed Susan, Tetratheca thymifolia [Section 191j], in a group, has a profusion of downturned pink flowers. River Rose, Bauera rubioides [Section 191l] also has downturned pink flowers over the low spreading shrub.
Follow the path across the Eucalyptus Lawn, through the section of wattles and down to the Rock Garden to be welcomed by the enclosure of dazzling daisies coloured white, pink and yellow[Section 4]. In front the Gymea Lily, Doryanthes excelsa [Section 15C] bears its large clusters of red flower heads on long upright stems, surrounded by long sword-like leaves. This Rock Garden contains many interesting flowers, and numerous Water Dragons sunning on the rocks in front of the waterfall.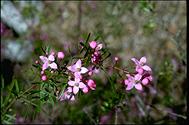 Boronia pinnata - click for larger image
Continuing to the cool Rainforest Gully, the Pink Rock Orchid, Thelychiton kingianus [Section 104] with long sprays of pink flowers seen attached to the rocks. Towards the exit, the Orange Blossom Orchid, Sarcochilus falcatus [Section 148] has open white flowers seen about the branches while the Dagger Orchid, Dockrillia pugioniformis [Section 148] dangles from the branches with green-cream flowers amid the dagger shaped leaves.
Extra flowers down the ramp but coffee in the coffee shop is compelling.
This walk, so enjoyable … Barbara Daly.
---
Updated 3 November, 2008 , webmaster, ANBG (anbg-info@anbg.gov.au)
---