---
---
In Flower this Week
A weekly news sheet prepared by a Gardens' volunteer.
Numbers in square brackets [ ] refer to garden bed Sections. Plants in flower are in bold type.
24 October 2008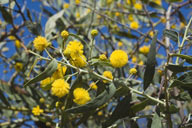 Acacia dempsteri- click for larger image
The Sturt's Desert Pea, Swainsona formosa seen in pots edging Banks Walk are really stunning. Other flowers edging Banks Walk include a wattle, Acacia dempsteri [Section 210] a tall spreading tree clad with large yellow flower balls and a waratah, Telopea 'Braidwood Brilliant' [Section 210] shows its large red flower spikes above the wall of yellow of Hibbertia empetrifolia [Section 210] which scrambles over the rock wall.
But this walk is about the Rock Garden, another area abundant with colourful plants. Walk in a clockwise direction from the base of the waterfall where a scattering of daisies coloured white, pink and yellow grow and are seen throughout this section. (names of these daisies can be seen in the enclosed bed opposite the lawns.) Opposite, Gymea Lily, Doryanthes excelsa [Section 15c] displays its large red flower clusters on top of its extended stems surrounded by large sword shaped leaves. In front are small shrubs of Dampiera purpurea [Section 15c] clad with blue flowers and Pultenaea villosa [Section 15c] with yellow pea-shaped flowers.
Opposite, Grevillea 'Poorinda Royal Mantle' [Section 15d] with dark red toothbrush-like flowers, falls down the rock-face and the small Dampiera salahae [Section 15d] with grey-green foliage has blue flowers. Bulbine glauca [Section 15d] is an upright succulent plant bearing yellow star-like flowers on top of upright stems. Grevillea involucrata [Section 15d] is an interesting dwarf shrub with long arching red branches, small divided leaves and few soft curvaceous pink flowers.
In the opposite corner Lechenaultia biloba [Section 15f] is small and crowned with blue flowers on its upright stems. Banksia repens [Section 15f] is a prostrate spreading plant with stiff indented upright leaves arising from the ground and cylindrical ochre coloured flower spikes also from the ground, seen edging the path. Towards the stairs, as a backdrop to another group of daisies, Westringia glabra [Section 15a] is a dense shrub of medium size spotted with bluish-mauve flowers. Edging the stairs Homoranthus flavescens [Section 15a] is a neat dense shrub with flattened branches clad with long yellow flower spikes. Opposite, Grevillea 'Masons Hybrid' [Section 15H] is a grand old shrub with long limbs terminating with red-orange flower spikes. Edging the top road, Grevillea insignis subsp. insignis [Section 15h] has spiky holly-like leaves and clusters of yellow-red flower clusters on this large open shrub.
Continuing along this road, Hypocalymma angustifolium [Section 15H] is a small dainty open shrub decorated with small fluffy pink and white flowers edging its branches. Dampiera sylvestris [Section 15h] is a suckering plant, displaying its blue flowers, on upright stems through the yellow flowers of Hibbertia empetrifolia. Pimelea humilis [Section 15h] has a covering of tiny flowers, in clusters, over this dwarf plant and at the corner, a Blue Tinsel Lily, Calectasia intermedia [Section 15h] is quite small with eye- catching blue metallic star flowers.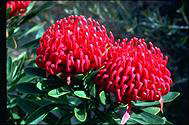 Telopea 'Braidwood Brilliant' - click for larger image
The waratah, Telopea 'Corroboree' [Section 15j] is splendid with a coverage of its large red flower heads. At the corner Eremaea fimbriata [Section 15j] is quite small but with interesting orange coloured frilly flowers. Turning downwards on the narrow path (omitting Section 14 because of lack of space), Thomasia pauciflora [Section 15r] has deep pink downturned flowers over the low shrub while behind Telopea speciosissima 'Wirrimbirra White' [Section 15r] which is a large shrub presenting its large whitish flower spikes. Beside it the large open white flowers are that of Alyogyne huegelii [Section 15r]. Then, in front of the waterfall, enjoy the water-dragons mostly sunning themselves on the many rocks.The bed of daisies coloured white, pink and yellow can be admired at the end of Section 4 edging the lawns … stunning!
So many flowers … and far more to enjoy … Barbara Daly.
---
Updated 3 November, 2008 , webmaster, ANBG (anbg-info@anbg.gov.au)
---