---
---
In Flower this Week
A weekly news sheet prepared by a Gardens' volunteer.
Numbers in square brackets [ ] refer to garden bed Sections. Plants in flower are in bold type.
17 October 2008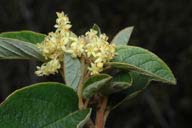 Pomaderris elliptica - click for larger image
These spring flowers, they bloom beside the paths, they bloom in the pots and about the buildings. They also bloom further afield where this walk will go with a promise there will be much colour including many boronias. But first admire the brilliance of the Sturt's Desert Pea, Swainsona formosa, the floral emblem of South Australia seen in pots from the Visitors Information Centre to the café. There is a display of daisies, coloured pink, white and yellow … just follow the signs towards the Rock Garden.
This walk, follow the road edging the far side of the Rainforest, turning right, as seen on the map, then to the stairs at the sheltered seat. At the corner Grevillea confertifolia [Section 37] has cherry-red flower balls over the semi-prostrate plant with a backdrop of Pomaderris elliptica [Section 37] with a dense covering of yellow flowers over a medium size shrub. The opposite corner Grevillea 'Wakiti Gem' [Section 36] has red toothbrush-like flowers amid the dense groundcover. Behind is a waratah, Telopea 'Wirrimbirra White' [Section 36] which reveals its large white flowers. A short walk to the left at the top of the stairs is a grouping of the Braidwood waratah, Telopea mongaensis [Section 36] the small shrubs well covered with the renowned red flower heads. Opposite are suckering plants of Dampiera rosmarinifolia [Section 38] displaying their brilliant blue flowers. Returning along this top path, a mint bush, Prostanthera 'Oakdene Mauve' [Section 38] grows slim and upright crowned with soft mauve flowers while in front, Pimelea 'Magenta Mist' [Section 38] is a shrub of medium size with many branches crowned with pink flower clusters. Towards the lawns, Grevillea bipinnatifida [Section 37] is a low spreading shrub with sharp deeply indented leaves and large sprays of orange-red flowers. Grevillea sericea [Section 37] is a shrub of medium size bearing spider-like pink flowers.
Follow the path through the arching branches of she-oaks, Allocasuarina sp.[Section 40] and across the road where the crowd of yellow pea-flowers of the suckering Goodia lotifolia [Section 49] are so brilliant. At the next corner the twining vine of Kennedia retrorsa [Section 46] acts as a groundcover with pink-purple pea flowers arising amid the foliage. Beside Hardenbergia comptoniana [Section 46] is a vine with blue-purple pea flowers, curling about nearby shrubs. Eutaxia cuneata [Section 47] is a dense shrub with a covering of small orange pea flowers. At the next corner, a group of Phebalium glandulosum [Section 46] is clad with bright yellow flowers while in front Boronia pulchella is a small shrub vivid with its pink flowers. Boronia 'Aussie Rose' [Section 46] also has pink star flowers while behind the notice board Eriostemon australasius [Section 46] is small and upright displaying its lovely powder pink star flowers. Following this path many large shrubs with white flowers are seen but few will be mentioned. So, find as a dense grouping, Boronia muelleri 'Sunset Serenade' [Section 46] is so attractive with pink star flowers in profusion over the shrub. Behind, Boronia 'Lorne Pride' [Section 46] is a larger compact shrub clad with dark pink flowers.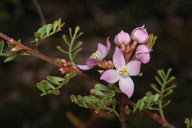 Boronia microphylla - click for larger image
Take the informal right path where Boronia tetrandra [Section 46] is a semiprostrate plant with yellowish-green cup shaped flowers. Opposite Zieria adenophora [Section 26] is quite interesting with a scattering of tiny white flowers mixing with the very dark foliage. Edging this path, Boronia heterophylla [Section 46] is an upright shrub dense with a covering of its almost scarlet cup shaped flowers, Boronia microphylla [Section 46] is a dwarf plant with its lovely pink shaded flowers. At the next corner follow the path to the right where Zieria prostrata [Section 46] is a mostly mounded spreading plant with dark foliage sprinkled with tiny pink flowers … and so many interesting flowers to admire … However on the return journey enjoy the daisies, the marked path will pass by them.
Hope you too, enjoy this area, with flowers and bird life … Barbara Daly.
---
Updated 24 October, 2008 , webmaster, ANBG (anbg-info@anbg.gov.au)
---