---
---
In Flower this Week
A weekly news sheet prepared by a Gardens' volunteer.
Numbers in square brackets [ ] refer to garden bed Sections. Plants in flower are in bold type.
10 October 2008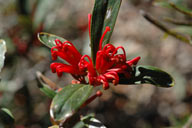 Grevillea dimorpha - click for larger image
Outside the Visitors Information Centre look up to the left for a lovely display of Philotheca 'Profusion' [Section 210] with masses of small white flowers. Also on the left is the cheerful yellow scrambler Hibbertia empetrifolia [Section 210]. Just behind the stunning pot of Swainsona formosa [Section 210], with its trailing red and black flowers, is the more modest Derwentia arenaria [Section 210] with small, white, five-part flowers. Skirt to the right of the café to the Ellis Rowan Garden, where there are two noteworthy heaths in flower, Epacris longiflora [Section 131], with beautiful red bells tipped in white on a straggly bush, and the cultivar Epacris 'Nectar Pink' [Section 131] with clear pink bells also tipped in white.
Near the large eucalypt on the right is the Geraldton Wax Chamelaucium uncinatum [Section 240] showing plenty of pink five-part flowers on an airy bush. Follow the Main Path up the hill to Melaleuca fulgens 'Hot Pink' [Sections 10 and 11] on both sides of the path. The bush may not be impressive but the blossoms are engaging with their hot pink colour and gold tips. As you turn right notice the bright yellow candles of Bulbine glauca [Section 303]. On the left are the stately pink flowers of Telopea 'Canberry Gem' [Section 30] and on the right the yellow fluffy blooms of Homoranthus sp. [Section 30] on arching branches. On the left is the honey-scented Grevillea 'Cara Lynn' [Section 25], a large bush with small tightly curled white flowers. It is hard to ignore Grevillea dimorpha [Section 25] on the left with its spiky red blooms against dark green foliage. Also hard to miss are the cream rods of Grevillea flexuosa [Section 27] on the right.
Across the road is a group of Isopogon anemonifolius [Section 24] showing off their yellow pincushion flowers. Turn left, back along the paved road to see a large bush of Grevillea beadleana [Section 25] with grey foliage and purplish-red toothbrush flowers. Now pass a group of flowering Prostantheras or Mint Bushes, starting on the right with Prostanthera stricta [Section 6], the Mount Vincent Mint Bush, with masses of purple flowers with darker centers.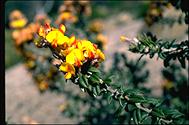 Oxylobiuim ellipticum - click for larger image
Further along is
Prostanthera incana
[Section 6] with more blue-purple flowers and minty smelling foliage, especially after rain. Also notice further along on the right
Prostanthera denticulata
[Section 6] with light mauve blooms and close foliage. An extensive bush of
Grevillea aspleniifolia
[Section 107] has long linear leaves and red toothbrush flowers and is much loved by Wattlebirds. The vine
Pandorea pandorana
[Section 107] on the right is smothered in a froth of cream tubular flowers. Also low on the right is a very attractive groundcover
Grevillea 'Wakiti Gem'
[Section 107] with lipstick red flowers. Two big bushes of
Westringia longifolia
[Section 119] on the right are covered in pale mauve flowers. On the way downhill to the café, on the right, is a small plant with bright gold pea flowers delighting in the name Common Shaggy Pea or more formally
Oxylobium ellipticum
[Section 127].
Rosalind Walcott
---
Updated 10 October, 2008 , webmaster, ANBG (anbg-info@anbg.gov.au)
---