---
---
In Flower this Week
A weekly news sheet prepared by a Gardens' volunteer.
Numbers in square brackets [ ] refer to garden bed Sections. Plants in flower are in bold type.
26 September 2008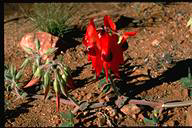 Swainsona formosa - click for larger image
Banks Walk is a kaleidoscope of colourful plants including the purple pea flowers of Hardenbergia violacea [Section 210] as it curls through the yellow fluffy balls of the Snowy River wattle, Acacia boormanii [Section 210]. See, in the large pots, the desert loving Sturt's Desert Pea, Swainsona formosa, soon to burst into flower.
This walk will follow the Main Path commencing at the end of the café building passing by a yet small wattle, Acacia 'Scarlet Blaze' [Section 131] with, not yellow but vermillion coloured flower balls. Space allows only few of the many flowering plants to be mentioned so, Bulbine glauca [Section 303] displays its yellow flowers on top of the upright stems surrounded by succulent leaves while Philotheca (Eriostemon) verrucosa 'J. Semmens' [Section 30] has a coverage of pink buds and many pale pink many-petalled flowers over the low shrub. Behind is Grevillea umbellulata [Section 30], a taller spreading shrub with intense red spider flowers. Homoranthus flavescens [Section 30] has sprays of yellow aromatic flower on its flat topped branches. Further on, Grevillea australis 'Cara Lynn' [Section 25] is a many branched upright shrub densely clad with lacy white perfumed flowers.
Crossing the road where shrubs, including many grevilleas mingle with the lovely white tree trunks. Grevillea ripicola [Section 24] is dense and spreading with pendulous yellow-red flowers and opposite Grevillea flexuosa [Section 26] bears yellow cigar shaped flowers over an entanglement of branches. The other side of the road Philotheca myoporoides subsp. conduplicata [Section 112] is clad with pink buds and white star shaped flowers. Opposite, Phebalium squamulosum [Section 112] has clusters of lacy yellow flowers and beside, Philotheca scabra subsp. latifolia [Section 112] is semi- prostrate and clad with small white flowers. Boronia muelleri [Section 112] close by is a small shrub clad with pink buds and small white flowers.
Crossing the next road follow the meandering path through the Sydney Region Gully where flowers are mainly in bud. Eriostemon australasius [Section 191h] has an abundance of pink buds just maturing to lovely white, tinted pink flowers while Logania albiflora [Section 191h] has long sprays of tiny white cup shaped flowers. At the look-down where ancient sandstone fossils can be seen a mint bush, Prostanthera rugosa [Section 191j] is quite dense with many violet coloured flowers. Beside is Epacris calvertiana var. calvertiana [Section 191j] a wiry shrub beautified with cream tubular flowers. Boronia anemonifolia subsp. variables [Section 191l], sprinkles its tiny pink buds and flowers over the small shrub with dark foliage. The opposite corner is mainly occupied with Grevillea acanthifolia subsp. acanthifolia [Section 191m] a shrub with long lateral branches containing prickly divided leaves and soft pink toothbrush-like flowers. Beside its limbs the River Rose, Bauera rubioides [Section 191m] is quite dense with many down-turned pink petalled flowers. Around the corner Dillwynia ramosissima [Section 191l] pushes its branches with small red-centred yellow pea shaped flowers through surrounding greenery.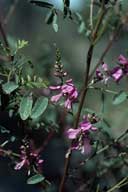 Indigofera australia - click for larger image
Crossing the Eucalyptus Lawn through a section of many wattles' to the Rock Garden where many flowering plants can be viewed. The local
Indigofera australis
[Sections 4,15R], are local open shrubs bright with purple pea-shaped flowers. In the centre of the garden a medium size shrub showing many large cream buds is that of a Waratah,
Telopea speciosissima 'Wirrimbirra White'
[Section 15R]. On the far side of the waterfall, pockets of small white daisies between the rocks are that of
Rhodanthe anthemoides
[Section 15D].
Continue across to the Rainforest Gully so full of green plants, and so down the ramp with more colourful plants to offer.
Such a splendid place to explore … Barbara Daly.
---
Updated 26 September, 2008 , webmaster, ANBG (anbg-info@anbg.gov.au)
---