---
---
In Flower this Week
A weekly news sheet prepared by a Gardens' volunteer.
Numbers in square brackets [ ] refer to garden bed Sections. Plants in flower are in bold type.
12 September 2008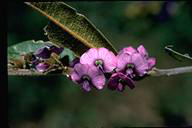 Hovea acutifolia - click for larger image
Such a pleasure to stroll through the Botanic Gardens now, so yellow with the many wattles. In the south car park where Acacia baileyana [Section 227] and Acacia cultriformis 'Cascade' [Section 226] fall over the rock walls so attractively coloured yellow with their flower balls. On either side of the stairs the floral emblem of Australia, Acacia pycnantha [Sections 224,225] are small trees bright with their golden flower balls.
Leaving the Visitors Centre the Snowy River Wattle, Acacia boormanii [Section 210] is so showy with its dense coverage of soft yellow flower balls, seen above Banks Walk. From the left hand path Hakea 'Winter Burgundy' [Section 210] continues to bear its balls of pink flowers surrounding the terminal branches while opposite, Hovea acutifolia [Section 210] is an upright plant bearing bright purple pea shaped flowers along its lateral branches. At the bottom corner Rulingia magniflora [Section 210] is an erect shrub with velvety leaves and sprays of soft pink open flowers. Facing the north car park at the end of Section 174 Rhodanthe anthemoides [Section 174] covers the slope, densely with its showy everlasting white daisies.
Cross the bridge overlooking the gully with the long fronds of Dicksonia antarctica to view some plants in the Ellis Rowan Garden seen just past the café. The Chefs Hat Correa, Correa baeuerlenii [Section 131] is quite a dense almost rounded shrub with shiny leaves almost concealing the long tubular pale green flowers. Opposite, Banksia 'Stumpy Gold' [Section 131] is a low spreading shrub bearing many upright cylindrical gold flower spikes. Walk below the arching branches of the Acacia covenyi [Section 136] attractively clad with grey-green foliage mixing with its golden wattles. Below the branches Grevillea 'Scarlet Sprite', [Section 136] is a low spreading dense shrub brilliant with its scarlet flower clusters. Returning to the Ellis Rowan Garden where Black Eyed Susan, Tetratheca thymifolia [Section 131] is dense with a coverage of deep pink flowers over this low spreading shrub.
Following the road to the left, Westringia longifolia [Section 117] is quite a dense shrub with a scattering of mauve flowers. Around the opposite corner Baeckea crassifolia [Section 10] is a dwarf plant with branches crowded with tiny pinkish flowers. It can also be seen edging the Main Path where Calytrix alpestris [Section 9] is another dwarf plant covered with frilly pink flower clusters. Close by is Thryptomene denticulata [Section 9] has its arching branches clad with tiny pink tinted flowers. Then a group of yet other wattles, Acacia dawsonii [Section 303], medium size shrubs all yellow with their flowers.
Returning to the former road to pass some Emu Bushes including Eremophila drummondii [Section 302] an upright slender shrub clad with mauve tube flowers, Eremophila oldfieldii subsp. angustifolia [Section 302] a smaller shrub clad with what appears to be lemon flowers but are the calyx of the flowers. Eremophila nivea [Section 302] is a taller shrub attractive with grey foliage mixing with its purple flowers.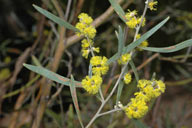 Acacia dawsonii - click for larger image
In front of the Rock Garden waterfall, Thomasia sp. [Section 4] is a many branched shrub with soft velvety leaves and mostly nodding deep pink flowers. Close by Guichenotia ledifolia [Section 4] is also a rounded dense shrub still bearing pale pink down-turned flowers.
The Rock Garden has many interesting flowers, the ducks are enjoying the pools and the first water dragon was seen sunning on the rocks.
Such a great place, these Gardens … Barbara Daly.
---
Updated 12 September, 2008 , webmaster, ANBG (anbg-info@anbg.gov.au)
---