---
---
In Flower this Week
A weekly news sheet prepared by a Gardens' volunteer.
Numbers in square brackets [ ] refer to garden bed Sections. Plants in flower are in bold type.
29 August 2008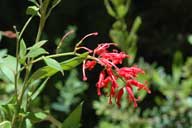 Grevillea rhyolitica 'Deua Flame' - click for larger image
Look on the right hand side as you exit the Visitors' Centre to see the solid gold balls of Acacia gordonii [Section 174] on arching stems of close heath-like foliage. Near the wattle is a small bush of Epacris reclinata [Section 174] with soft pink tubes. On the left hand side of the walk is a small neat bush covered in mauve bells, Prostanthera phylicifolia [Section 210]. Also on the left is a tall Grevillea cross with pink spider flowers, Grevillea johnsonii x wilsonii [Section 210], towering over the waterfall where the frogs call. Follow the main path across the bridge and skirt the café. Up the hill on the right are three glorious Acacia dawsoni [Section 303] with narrow leaves almost obscured by brilliant yellow balls. Further along is a fine specimen of the Tablelands Wattle, Acacia caesiella [Section 303] with attractive grey-green foliage. On the left is a stunning plant of Acacia baileyana (prostrate form) [Section 30] draping its beautiful foliage to the ground. Over the acacia stands Banksia ericifolia var. ericifolia showing large orange spikes. On the right is a lovely form of Grevillea lanigera [Section 9] displaying pink and cream spider flowers on a dense bush. On the left is a large sprawling bush of Grevillea rhyolitica 'Deua Flame' covered in red clusters of flowers.
Further along on the left is the Fern Leaved Banksia, Banksia oblongifolia [Section 25] showing clusters of short greenish yellow spikes. The Green Grevillea, Grevillea jephcottii [Section 25] is a favourite of the birds. Fresh green foliage is dotted with subtle pale green blooms much beloved by all nectar eaters. Grevillea lanigera (prostrate form) [Section 25] is a different form of the Woolly Grevillea – a long blooming plant with pink and cream flowers on grey green foliage. Around to the left and across the main road to a comfortable seat with a view of Grevillea dimorpha [Section 25] Red Spider Flower, living up to its name. Continue on the main path noticing on the left several vigorous bushes of Grevillea 'Bonfire'[Section 24] with waxy red flowers. There are so many Grevilleas in bloom in winter. On the right is another example, Grevillea corrugata [Section 26] in full bloom with white starbursts of flower with a lemony fragrance. On the left another beautiful Grevillea, Grevillea ripicola [Section 24] with orange-red flowers on a neat bush.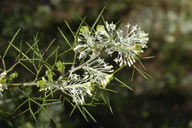 Grevillea corrugata - click for larger image
Turn left towards the Eucalypt Lawn to see an unusual Adenanthos detmoldii [Section 24] a sparse bush with cream and orange spider flowers. Turn left again to Grevillea vestita [Section 18] a large bush with light green foliage and white clusters of flowers. On the right is Acacia ingramii [Section 18] with long needle foliage, fluffy yellow balls and a strong wattle fragrance. Another interesting wattle is Acacia aphylla [Section 3] with dull gold blooms on leafless grey-green branches. Keep looking up to the right in Sections 3 and 120 for more wattles in flower. Eye-catching bright blue flowers of Dampiera salahae [Section 17] are near the pink five part flowers of Chamelaucium 'Cascade Brook' [Section 17]. Then down the hill to the welcoming café.
Rosalind Walcott
---
Updated 29 August, 2008 , webmaster, ANBG (anbg-info@anbg.gov.au)
---