---
---
In Flower this Week
A weekly news sheet prepared by a Gardens' volunteer.
Numbers in square brackets [ ] refer to garden bed Sections. Plants in flower are in bold type.
22 August 2008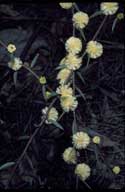 Acacia siculiformis- click for larger image
As you exit the Visitor Centre, look up to the left to see a golden fringe of Snowy River Wattle, Acacia boormanii, [Section 212] in full flower. Keep looking to the left to spot the magnificent Hakea 'Winter Burgundy' [Section 210] showing deep pink balls amongst stiff foliage. Further along on the right is the delicate Common Heath, Epacris impressa, Victoria's state flower, with bright pink bells hanging from a wiry bush. At the end of this bed is Geraldton Wax, Chamelaucium 'Cascade Jewel' [Section 174], with purplish, flat, five-part flowers. Bear left up the hill to sight the butter yellow balls of the Dagger Wattle, Acacia siculiformis [Section 182] next to Grevillea rosmarinifolia 'Rosy Posy' with pink and cream spider flowers.
Turn onto the Main Path towards the waterfall, noticing white paper daisies Rhodanthe anthemoides [Section 15V] on the left and the subtle pink bells and grey foliage of Guichenotia ledifolia [Section 4] on the right. Continue into the Rock Garden up the steps to the stunningly prickly Hakea corymbosa [Section 15P] with its cream cauliflower heads much appreciated by insects of all kinds. Turn right towards the Sundial to see a prostrate Grevillea sp. [Section 14] with prominent tomato red styles. Cascading onto the path is Eremophila subfloccosa subsp. subfloccosa [Section 14] with soft grey foliage somewhat hiding the yellow green tubular flowers. From the Rock Garden Shelter continue to the lipstick pink flowers of Hakea purpurea [Section 21]. Turn right past the brilliant yellow Acacia ingramii [Section 19] to Grevillea vestita [Section 22] with its white starbursts of flower. Go past the Sydney Gully, (although it is always worth a look), and turn downhill to the right to see Phebalium squamulosum [Section 112], a small bush with bright yellow clusters of small star like flowers. Take a rest on the seat with a stunning view of huge orange spikes of Banksia ericifolia var. ericifolia [Section 28]. Nearby Grevillea newbeyi [Section 25] has showy red and cream flowers with long styles.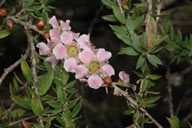 Leptospermum squarrosum - click for larger image
On the corner is a beautiful Banksia cross also with prominent red styles, Banksia ericifolia x spinulosa [Section 28]. Bear right at the green posts to the lovely Leptospermum squarrosum [Section 12] with its pink five-part tea tree flowers. Notice the small white flowers turning to pink of Micromyrtus ciliata [Section 12]. Opposite is the eye catching purple Hardenbergia violacea [Section 143] climbing into a Banksia. Heading at last towards the Café you see Winged Wattle, Acacia alata var. biglandulosa [Section 240] with cream balls on flattened phyllodes. The Gardens provide a wonderful winter display.
Enjoy it….. Rosalind Walcott
---
Updated 27 August, 2008 , webmaster, ANBG (anbg-info@anbg.gov.au)
---