---
---
In Flower this Week
A weekly news sheet prepared by a Gardens' volunteer.
Numbers in square brackets [ ] refer to garden bed Sections. Plants in flower are in bold type.
8 August 2008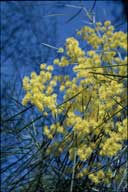 Acacia ingramii - click for larger image
Tis still winter but spring is in the air and so many shrubs are beginning to burst into flower. So this walk is to view the Mallee area of Western NSW and SA, starting at the base of the old nursery passing by wattles, Acacia covenyi [Section 3] with branches of soft yellow flower balls lean above the road and Acacia ingramii [Section 1] a tree of medium size standing erect with yellow flower balls. Acacia gordonii [Section 44] is a small spreading shrub with dark foliage dense along the branches and bright yellow flower balls maturing among the many buds. Leptospermum squarrosum [Section 44] continues to crowd its lovely pink peach blossom flowers along the extended branches.
Walking up the road a grouping of Olearia pimeleoides [Section 300] stand erect with many branches tipped with large yellow daisy-like flowers. Brachyscome 'Breakoday' [Section 300] makes an ideal groundcover with small pink daisy-like flowers above the dense foliage. Through the shrubs the pendulous orange-red flower clusters of Grevillea dielsiana [Section 100B] can be seen. Maybe a better viewing can be had from the board-walk. Hybanthus floribundus subsp. adpressus [Section 100B], has a coverage of tiny white with a trace of blue flowers on this many branched small shrub.
Entering the boardwalk of the mallee area and in an anticlockwise direction the following plants with some flowers and many buds can be viewed. Grevillea pilosasubsp.pilosa [Section 100B], with hairy holly-like leaves and powdery pink buds in cluster, which will mature to red flowers on long branches which stretch along the ground. Close by is an emu-bush, Eremophila microtheca [Section 100B], also ground-hugging with tiny mauve flowers among the foliage. Correa pulchella variant3 [Section 100A] seen in front of a tree trunk, is well covered with deep pink buds and few cherry red tube shaped flowers. Opposite, Thryptomene denticulata [Section 100B], rises its arching branches clad with tiny pink flowers above the Porcupine Grass, Triodia scariosa [Section 100B] dense with sharply pointed leaves. Behind a small mallee-tree Eucalyptus flocktoniae subsp. hebes [Section 100B] is heavy with buds now maturing with yellow flowers. Dampiera salahae [Section 100B] is there, too, with white centred blue flowers over a dwarf shrub.
At the curve Grevillea 'Sid Reynolds' [Section 100B] with branches above the path reveals its lovely cream flowers with long red styles tipped yellow. Baeckea crassifolia [Section 100C] has a profusion of tiny pink flowers covering this small plant. Eremophila oldfieldii subsp. angustifolia [Section 100A] is interesting for it is now clad with green calyces, resembling four petalled flowers, some still with its reddish tube shaped flowers. Nearby Eremophila oppositifolia [Section 100A] is clad, in profusion with deep pink buds and pink tube shaped flowers. In front Dampiera dysantha [Section 100A] is low, ground hugging and improved with a scattering of bright blue flowers on the bare stems. Solanum orbiculatum subsp. orbiculatum [Section 100A] is yet another dwarf shrub bearing yellow centred open mauve flowers edging the thorny branches. The path here is edged with Baeckea crassifolia [Section 100A] as seen before. Hakea cycloptera [Section 100C] close to the path, is a shrub of medium size and well clad with white lacy flowers which cling to the branches while at the exit of the board-walk, Lambertia ericifolia [Section 100C] is a large shrub still retaining its interesting orange open tube flowers. Opposite the exit the colourful Banksia ericifolia [Section 103] glowing gold with long upright cylindrical flower spikes. In the distance clusters of orange fruits on the upright branches of Auranticarpa rhombifolia [Section 96] are seen.
Worth the walk? Hopefully, yes … Barbara Daly.
---
Updated 27 August, 2008 , webmaster, ANBG (anbg-info@anbg.gov.au)
---