---
---
In Flower this Week
A weekly news sheet prepared by a Gardens' volunteer.
Numbers in square brackets [ ] refer to garden bed Sections. Plants in flower are in bold type.
1 August 2008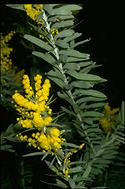 Acacia covenyi - click for larger image
These cool breezy days leads to a walk following the Main Path and so will commence at the far end of the café building where the large wattle, Acacia covenyi [Section 240] called the Blue Bush, glows yellow with soft fluffy balls. Edging the path another wattle, Acacia alata var. biglandulosa [Section 240] called the Wing wattle, has interesting flat zig-zag branches with cream fluffy flower balls attached.
Follow this path connecting the Sydney Region Flora, the Rock Garden and the Rainforest. Pass below the grey trunks of the paperbarks to an area of small shrubs including Baeckea crassifolia [Section 10] with a profusion of pink flowers covering its upright stems. Across the corner Calytrix alpestris [Section 9] is a small open shrub with spiky petalled flower clusters in shades of pink. Then Tetratheca denticulata [Section 9] also a low plant with arching branches is clad with deep pink flowers. Later, Philotheca 'J. Semmens' [Section 30], as are many shrubs, is well clad with deep pink buds with few rare multi-petalled white flowers. Cootamundra wattle, Acacia baileyana [Section 30] is a dense spreading prostrate form clad with soft divided greyish foliage and with soft fluffy flower balls and many buds just bursting into flower. Behind, the large spreading Banksia ericifolia var. ericifolia [Section 30] just glows with its tall cylindrical golden flower spikes. Banksia 'Birthday Candles' [Section 30] is a dwarf dense spreading plant, also with upright golden flower spikes.
At the next intersection, Grevillea lanigera [Section 25] is a dense groundcover with a profusion of pink spider-like flowers. Around the corner Grevillea dimorpha [Section 25] is red with spider flowers clinging to the many upright branches of this medium size shrub. Across the road, not quite edging the path, Hakea 'Kincora' [Section 24] is yet a small upright shrub bright with red globular flowers clinging to the terminal stems. Grevilleas along this section are many, just awaiting warmer weather to burst into flower, all worth admiring. However, behind the seat Banksia blechnifolia [Section 26] is worth an inspection for this prostrate plant is clad with many long upright deeply lobed leaves and now reveals two bright red immature flower spikes on branches hugging the ground.
The Sydney Region has few flowers but a joy to stroll through. Crowea exalata [Section 191h] is a small dense shrub with pink star flowers and later Epacris calvertiana var. calvertiana [Section 191j] has a scattering of small white tubular pendent flowers over the open shrub. Nearing the top, Crowea saligna [Section 191u] is low and dense with bright pink starry flowers.
Across the Eucalyptus Lawn to a section of acacias, Acacia flexifolia [Section 18] rests along the ground with its yellow fluffy flowers at the branch terminals. Across the next road, Hakea recurva [Section 20] is a fairly dense tall shrub with fine sharp pointed leaves and lacy lemon flowers crowded about the upper branches. Hakea purpurea [Section 20] is an upright open shrub with warm red flowers along its branches.
Continue down to the Rock Garden, with many a flower to admire. Thryptomene denticulata [Section 15S] catches the eye again with its low arching branches clad with pink flowers. Behind the rock Leucopogon melaleucoides [Section 15S] is another small shrub with terminal spikes of tiny fluffy white flowers. Between the rocks at the other side of the waterfall are small pockets of Rhodanthe anthemoides [Section 15D] displaying many small burgundy buds and few white daisy-like flowers among its soft foliage.
A walk through the Rainforest Gully, so green and relaxing, to the ramp with other flowers to admire.
Many flowers in midwinter … Barbara Daly.
---
Updated 27 August, 2008 , webmaster, ANBG (anbg-info@anbg.gov.au)
---