---
---
In Flower this Week
A weekly news sheet prepared by a Gardens' volunteer.
Numbers in square brackets [ ] refer to garden bed Sections. Plants in flower are in bold type.
4 July 2008
Tis cold and breezy – time for a brisk walk. To start, just below the Visitors Information Centre edging the foot path
Hakea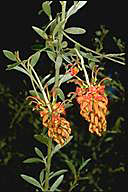 Grevillea diminuta - click for larger image
'Burrendong Beauty'
[Section 221] shows off its red globular flowers over a low spreading shrub. Edging Banks Walk
Banksia 'Birthday Candles'
[Sections 172, 210] is a dwarf shrub bright with golden cylindrical upright flower spikes ribbed with red anthers. Mint bush,
Prostanthera phylicifolia
[Section 210] continues to be clad with pink flowers over the shrub which falls over the rock wall. Across the path
Thryptomene denticulata
[Section 174] showers its low arching branches with tiny pink flowers. On the lower level of this section larger shrubs as
Zieria formosa
[Section 174] is clad with tiny pale pink flowers which mix with the green-grey foliage and
Banksia ericifolia 'Red Clusters'
[Section 174] bearing bright gold almost red, long cylindrical flower spikes.
Past the café and in the Ellis Rowan garden, banksias include Banksia 'Stumpy Gold' [Section 131] is a dwarf spreading shrub with many slim dull gold flower spikes. Grevillea diminuta [Section 131] is a taller open shrub with dusky red flowers while Epacris 'Nectar Pink' [Section 131] has white tipped pink tubular flowers edging its terminal branches. Opposite a dense group planting of Crowea 'Coopers Hybrid' [Section 240] has a scattering of bright pink star-like flowers and the winged wattle, Acacia alata var. biglandulosa [Section 240] has cream fluffy flower balls attached to the unusual zig-zag shaped branches of this dense shrub wrapped around a tree trunk.
The path uphill around Banksia spinulosa var. collina [Section 131] endowed with many yellow flower spikes pass the Wombat Vine, Eustrephus latifolius [Section 127] with orange berries along the vine which curls around other shrubs. Below the magnificent Eucalyptus mannifera [Section 10] with its white mottled trunk and limbs, Thryptomene 'Pink Lace' [Section 10] is a small shrub with graceful arching branches clad with bright pink tiny flowers. Then, passing the bottle-tree, Brachychiton rupestris [Section 302] with its bottle-shaped trunk, an emu-bush, Eremophila oppositifolia [Section 302] is an upright shrub with an abundance of cream tubular flowers mixing with the crowning foliage.
Before turning towards the Brittlegum lawn, the red bottlebrush flowers of Callistemon recurvus [Section 110] on a small upright tree can be seen. Behind, Callistemon 'Glasshouse Country' [Section 110] is tall and graceful having short pink bottlebrush-like flowers. Edging the lawn Banksia ericifolia var. ericifolia [Section 109] is a large open shrub with its golden flower spikes while at the corner Banksia spinulosa var. spinulosa [Section 109] with red anthers ribbing the golden flower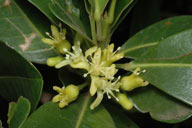 Acronychia imperforata - click for larger image
spikes, is worth a close inspection to see the beauty of these flowers. The lower corner is a tall dense shrub laden with creamy pink fruits of a Lilly-pilly, Acmena smithii [Section 107]. Further up the path, passing Acronychia imperforata [Section 114] with bright green leathery leaves and small clusters of pale green flowers the Lilly-pilly [Section 140] is clad with mature bright pink fruits.
The flowers in the triangular garden include the colourful Chamelaucium 'Cascade Brook' [Section 17] with mottled pink open flowers in profusion and Dampiera salahae [Section 17] a low suckering herb with upright stems of bright blue flowers. Opposite, a grouping of Crowea 'Festival' [Section 123] is decorated with its pink star flowers.
The path to the right leads to the Rock Garden with its selection of flowers.
Windy day, pleasant walking … Barbara Daly.
---
Updated 27 August, 2008 , webmaster, ANBG (anbg-info@anbg.gov.au)
---