---
---
In Flower this Week
A weekly news sheet prepared by a Gardens' volunteer.
Numbers in square brackets [ ] refer to garden bed Sections. Plants in flower are in bold type.
6 June 2008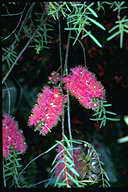 Melaleuca radula - click for larger image
There is a section containing mallee species of WA and SA with flowers to view. Many plants are also clad with buds awaiting spring. Regardless the area is worth a visit. It is situated up behind the old nursery. But view Leptospermum squarrosum [Section 44] an upright shrub with terminal branches clad with peach-blossom pink flowers, seen among other shrubs. A wattle, Acacia gladiiformis [Section 44] an upright shrub with branch terminals densely clad with large fluffy yellow flower balls. Then take the road beside the old nursery where numerous ground covers including Grevillea lanigera [Section 300] clad with pink and cream flowers and Brachyscome multifida 'Breakoday' [Section 300] with soft foliage mixing with the small mauve daisies.
The other side of the road a Bull-oak, Allocasuarina lehmanniana subsp.ecarinata [Section 100B] is a low shrub with small dark red flowers attached to the terminals of the long lateral branches. Melaleuca radula [Section 100B] has soft pink bottlebrush-like flowers on its terminal branches of this open upright shrub while Grevillea dielsiana [Section 100B] dangles its gorgeous orange flower clusters from its branches with short fine divided foliage.
Entering the boardwalk of this mallee area and in an anticlockwise direction the following plants can be seen. Grevillea pilosa subsp. pilosa [Section 100B] is a dwarf spreading shrub with hairy holly-like leaves and pale pink buds maturing to red flowers. In the centre of the garden the small upright shrubs are Hybanthus floribundus subsp. adpressus [Section 100B], all clad with tiny white flowers. Beaufortia decussata [Section 100A] displays its bright red flowers above the dense shrub seen in the centre of the garden. Thryptomene denticulata [Section 100B] is quite attractive for its arching branches are pink with tiny flowers.
Around the boardwalk curve Grevillea 'Sid Reynolds' [Section 100B] branches above the path, its flowers are cream with long red styles tipped yellow. Towards the valley Grevillea wilsonii [Section100B] can be viewed as a neat low rounded shrub with conspicuous scarlet flower clusters. Thomasia petalocalyx [Section 100A] is a low dense sprawling shrub with a scattering of down-turned pink flowers. Banksia epica [Section 100A] is of medium size bearing soft ochre coloured flower spikes tipped with brown stamens. Close by an emu-bush, Eremophila oppositifolia [Section 100A] is well clad with its grey-pink with cream throat trumpet flowers while Solanum orbiculatum [Section 100A] is a small shrub with grey-green foliage, its dusky purple flowers having bright yellow anthers. Opposite, a wattle, Acacia alata [Section 100C] is low and spreading with its white fluffy flowers edging the zig-zag flat branches. Dryandra quercifolia [Section 100C] is a dense rounded shrub with toothed leaves and large rounded flower heads. Behind, Labichea lanceolata [Section100A] is an open shrub dotted with open yellow flowers, its petals marked with a dark patch. Eremophila laanii [Section 100A] is a medium graceful shrub endowed with soft pink curved tube shaped flowers while Dampiera lanceolata [Section 100C] with upright many stemmed plant bears blue flowers.
At the exit of the boardwalk Banksia ericifolia var. ericifolia [Section 103] is a large spreading shrub laden with long cylindrical gold flower spikes while, looking up the gardens from the bridge, the tall slim shrubs laden with clusters of orange fruits are those of Auranticarpa rhombifolia [Section 96].
Now that is some section of flowers to enjoy … Barbara Daly.
---
Updated 27 August, 2008 , webmaster, ANBG (anbg-info@anbg.gov.au)
---