---
---
In Flower this Week
A weekly news sheet prepared by a Gardens' volunteer.
Numbers in square brackets [ ] refer to garden bed Sections. Plants in flower are in bold type.
25 April 2008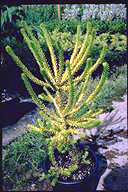 Banksia ericifolia 'Limelight'- click for larger image
It would be almost impossible to walk around the Gardens at this time of the year without enjoying some of the many banksias in flower. Most banksia flower spikes mature from the base upwards over a period ranging from 2 ½ months to 7 months, ensuring a long supply of nectar for many birds and insects. This walk includes some of the 15 species from the Australian east coast, the majority of banksias being concentrated in Western Australia.
To start this walk, follow the Main Path to the Monocot area. Take the path to the left, turning behind a large Eucalypt. On the right Banksia 'Giant Candles' [Section 30] is a hybrid which arose spontaneously in a Brisbane garden with large, orange flower spikes. Next the lime-green foliage of Banksia ericifolia 'Limelight' [Section 30] contrasts with its golden yellow flowers. Further along on the right Callistemon subulatus [Section 30] displays lovely bright red flower spikes. As the path curves, on the right a low Thomasia grandiflora [Section 25] has pink nodding flowers and soft foliage. Opposite Callistemon 'White Anzac' [Section 30] is in flower for Anzac Day.
Back on the Main Path, turn right at a prostrate form of Coast Banksia, Banksia integrifolia ssp. integrifolia [Section 30] cream-yellow flowers. This was one of the species first collected by Joseph Banks at Botany Bay in 1770. Just around the corner on the left, Lambertia inermis [Section 27] from Western Australia has conspicuous spider-like red flowers and the strange sounding common name 'Chittick'. Turn left at the next road junction. Tucked between green and purple-leafed forms of Banksia robur (Swamp Banksia) is Banksia spinulosa var. collina (Hairpin or Hill Banksia) [all Section 28] with yellow-orange flowers.
Take the winding path which diverges left from the road to enjoy some older plantings. On the left, an upright grafted Banksia canei (Mountain Banksia) [Section 28] will develop pale yellow flowers from its pink-mauve buds. Don't miss the interesting seed cones on the same species behind. This species comes from sub-alpine areas between the Snowy Range, Gippsland, and the Tuross River. On the right, the only banksia occurring naturally in the Canberra region, Banksia marginata (Silver Banksia) [Section 28] has interesting leaves, silver underneath, and pale yellow flower spikes. On the left, a prostrate Grevillea lanigera [Section 27] has crowded woolly leaves and showy pink flowers. On the left Banksia paludosa (Marsh Banksia)[Section 27] has pale to golden brown flower spikes.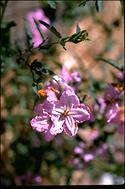 Thomasia grandiflora - click for larger image
As the path curves left, note the large flowers on a mature Banksia aemula (Wallum Banksia) [Section 27] from near coastal areas between Bundaberg and Sydney the massive fruits were probably the inspiration for May Gibbs' 'Big Bad Banksia Men'. On the left Lomatia silaifolia [Section 27] has very attractive foliage and long sprays of cream flowers. Next on the left, Banksia integrifolia ssp. compar [Section 27] from coastal dunes between Proserpine and Rainbow Beach in Queensland is covered with profuse yellow flowers.
Kath Holtzapffel
---
Updated 27 August, 2008 , webmaster, ANBG (anbg-info@anbg.gov.au)
---