---
---
In Flower this Week
A weekly news sheet prepared by a Gardens' volunteer.
Numbers in square brackets [ ] refer to garden bed Sections. Plants in flower are in bold type.
18 April 2008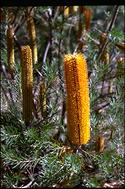 Banksia 'Giant Candles'- click for larger image
With the approach of cooler weather, it is a joy to find so many plants still in flower or coming into flower. There may be honeyeaters or bees feeding on the flowers, especially the banksias.
This walk starts at the end of the Ellis Rowan Building, past the Kiosk. Turning left at a bed of banksias, Banksia spinulosa var. spinulosa[Section 131] has profuse honey coloured flower spikes and fine foliage. Continuing up the hill, at the edge of the next bed on the left, two cream bracts around the insignificant flowers of Spyridium vexilliferum [Section 127] give rise to its common name of Helicopter or Propeller Bush. At the next corner, Melaleuca fulgens [Section 127] still has a couple of bright apricot flower spikes. Opposite, past a large brittle gum, several prostrate plants of Thryptomene 'Pink Lace' [Section 10] are covered with attractive pink flowers.
After passing the bottle tree, turn right at the next road. On the right, a small mint bush, Prostanthera latifolia [Section 7], has attractive mauve flowers. Turn right at the zebra crossing and pause to admire the many large orange flower spikes of Banksia 'Giant Candles' [Section 30] to the left of a large brittle gum (Eucalyptus elliptica). Passing to the right of the tree, join the Main Path and turn left. On the left Banksia ericifolia var. ericifolia [Section 30] has bright green leaves and orange-red flower spikes. Across the Main Path, on the right, Dryandra quercifolia [Section 30] displays large fluffy yellow flowers and sharp, toothed leaves. Back on the left, a low-growing Banksia 'Birthday Candles' [Section 30] has profuse, golden, candle-like flower spikes.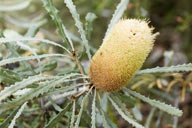 Banksia pilostylis - click for larger image
At the next path to the left, a small detour leads to Callistemon 'White Anzac' [Section 30] at the first corner, so named because it flowers around Anzac Day each year. Returning to the main path, on the left, near a large painted sign "Proteas, Banksias, Waratahs and Grevilleas", a threatened plant from Cue (south of Meekathara (WA)), Grevillea inconspicua [Section 25] has neat white flowers. Behind it, Banksia pilostylis [Section 25] has deep cream, oblong flower spikes. Grevillea oxyantha [Section 25], formerly included in Grevillea victoriae, has rounded leaves and rusty red spider flowers.
Turn right past a double seat and a large Eucalyptus amplifolia. Then, where the path divides, behind Grevillea jephcottii, Banksia marginata [Section 28] has small, bright yellow flower spikes. Continue on the right hand path and at the corner Lomatia silaifolia [Section 28] is adorned with graceful sprays of white flowers. Then a large Grevillea 'White Wings' [Section 28] has clusters of lacy white flowers. Tucked into a corner beside the grevillea is a gold flowered form of Banksia ericifolia, Banksia 'Kanangra Gold' [Section 28]. Lastly, Banksia spinulosa var. collina [Section 28] has toothed foliage and honey coloured flower spikes.
Kath Holtzapffel
---
Updated 27 August, 2008 , webmaster, ANBG (anbg-info@anbg.gov.au)
---