---
---
In Flower this Week
A weekly news sheet prepared by a Gardens' volunteer.
Numbers in square brackets [ ] refer to garden bed Sections. Plants in flower are in bold type.
11 April 2008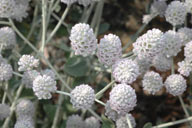 Ptilotus obovatus 'Cobtus'- click for larger image
Come, enjoy the small and not so small floral beauties in the Rock Garden starting in front of the picturesque waterfall, walking in a clockwise direction. Endeavouring to take over the path, Banksia integrifolia var. integrifolia [Section 15C] is a spreading prostrate plant with silver backed leaves and many upright cylindrical lemon flower spikes. Opposite, Correa 'Ivory Bells' [Section 15D] is a large dense shrub clad with tubular ivory coloured flowers. Nestled beside it is Banksia 'Honeypots' [Section 15D] a dwarf but upright shrub with honey coloured flower spikes. Towards the stream Ptilotus obovatus 'Cobtus' [Section 15D] is quite small with grey green foliage and grey, tinted pink, woolly flower balls on upright stems.
Dampiera stricta [Section 15F] has bright blue flowers on upright stems of this suckering plant crowded between rocks. In front a self-seeding plant, Isotoma axillaris [Section 15G and elsewhere] has blue star-like flowers on a small upright herb. Behind the seat another small upright plant, Solanum sturtianum [Section 15G] has deep purple, yellow centred open flowers and greyish foliage. The ground cover, Grevillea lanigera [Section 15W] has spider-like pink and cream flowers which flows down the slope, Around the corner Leptorhynchos nitidulus [Section 15G] is a low suckering herb bright with yellow button shaped flowers. Microcorys exserta [Section 15F] is a dwarf twiggy shrub decorated with bright blue flowers.
Towards the stairs Westringia glabra [Section 15A] is a dense shrub bearing many small pink flowers while Plectranthus argentatus [Section 15A] is a tall herb attractive with long spikes of tiny bluish flowers. Opposite, Grevillea 'Masons Hybrid' [Section 15H] is a grand old shrub with long meandering branches tipped with find divided leaves and lovely large red and cream flower sprays.
Edging the top road Black-eyed Susan, Tetratheca ciliata [Section 15H] is a low dense shrug bearing small down-turned black centred pink bell-like flowers. Scaevola albida var. albida [Section 15H] is a low spreading plant with white fan shaped flowers in profusion while beside it is Dampiera sylvestris [Section 15H], a suckering plant with blue flowers on upright stems. Take the path down between the grass trees Xanthorrhoea johnsonii [Section 15J, 14] in front of which Senna artemisioides subsp. filifolia [Section 14] has bright yellow open flowers. At the lower corner to the right where Banksia 'Birthday Candles' [Section 15L] is a dwarf dense shrub bearing, in profusion its many gold cylindrical candle-like flower spikes.
From this downward path Lysiosepalum involucratum [Section 15R] is a low compact shrub with dark centred deep pink flowers. A background of an emu bush, Eremophila christophori [Section 15R] has soft mauve bugle shaped flowers, while Labichea lanceolata [Section15R] is a medium shrub bearing yellow four-petalled flowers, each one with a red blotch.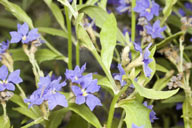 Dampiera sylvestris - click for larger image
At the lower corner Correa 'Canes Hybrid' [Section 15S] is of medium size with an abundance of tubular pink and lemon flowers pendent from the branches. Thryptomene denticulata [Section 15S] is a low spreading shrub low arching branches picturesque with
tiny pink flowers while, in front of the waterfall Guichenotia ledifolia [Section 4] is a dense rounded shrub with greyish foliage and an abundance of pale pink down-turned flowers. Water Dragons too, may be seen slumbering on the rocks and the tiny blue fairy wrens with their jenny wren partners enjoy the findings in the garden mulch.
Some place here in the Rock Garden … Barbara Daly.
Updated 27 August, 2008 , webmaster, ANBG (anbg-info@anbg.gov.au)
---