---
---
In Flower this Week
A weekly news sheet prepared by a Gardens' volunteer.
Numbers in square brackets [ ] refer to garden bed Sections. Plants in flower are in bold type.
4 April 2008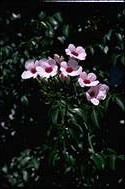 Pandorea jasminoides - click for larger image
These cooler balmy days are right for a walk with the many blooming banksias and other flowering plants. Opposite the Visitors Information Centre doors, Pandorea jasminoides [Section 210] continues to bear large pink trumpet-like flowers over the dense twining climber while on the other side of the door, the orange Wombat berries of the climber Eustrephus latifolius [Section 210] are quite attractive. Edging Banks Walk Banksia 'Birthday Candles' [Section 210] is a dwarf shrub alight with many gold upright cylindrical flower spikes while the colourful mauve flowers of Prostanthera phylicifolia [Section 210] flowing over the rock wall. Just this side of the bridge are Melaleuca 'White Lace', Melaleuca 'Pink Lace' and Melaleuca 'Little Beauty' [Section 60], the latter with deeper feathery flowers, all on small shrubs.
Cross the bridge over the stream of tree ferns, Dicksonia antarctica with the long radiating fronds. Edging this narrow path compare Crowea saligna [Section 240] with large pink petalled flowers over a low shrub with Crowea exalata [Section 240] close by, with its pink petalled flowers over a larger shrub. Banksia 'Giant Candles' [Section 143] seen behind Eucalyptus rodwayi [Section 143] is a tall shrub with long golden flower spikes. Down this path Banksia ericifolia [Section 239] is a large dense shrub with many dull gold juvenile flower spikes. Grevillea diminuta [Section 239] has many small pendulous rust red flower clusters over the open shrub while opposite a bottlebrush, Callistemon 'Splendens' [Section 240] is a tall shrub bright with its red bottlebrush-like flowers. Continuing up-hill where below the lateral branches of the large Eucalyptusmannifera [Section 10] Thryptomene 'Pink Lace' [Section 10] is a small open shrub pretty with its tiny pink flowers surrounded by self-seeding straw flowers, Xerochrysum sp. [Section 10] coloured yellow and cream. At the opposite corner Scaevola albida [Section 124] is a ground cover clad with mauve fan shaped flowers along the spreading branches.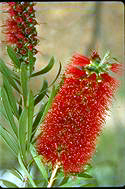 Callistemon pachyphyllus- click for larger image
Bottlebrushes edge this path to the right. Callistemon citrinus [Sections 9,11] is a large dense shrub profuse with crimson flowers. Callistemon 'Firebrand' [Section 9] has similar coloured flowers over a low shrub while Callistemon pachyphyllus [Section 11] is an open shrub with its shade of large red flowers. Banksia spinulosa var. collina [Section 28] is a dense shrub with fine leaf and laden with long upright dull gold juvenile flower spikes. Take the narrow path beside Grevillea 'White Wings' [Section 28] a large dense shrub profuse with white feathery flowers. This area has many banksias most with juvenile flower spikes and includes the Marsh banksia, Banksia paludosa [Section 27] with dusky gold flower spikes, Banksia ericifolia var. ericifolia [Section 28] clad with mature gold flowers and opposite, Banksia aemula [Section 27], another large shrub with mature lime coloured flower spikes. Banksia integrifolia subsp. compare [Section 27] is also a large shrub with spreading branches abundant with lemon-green flower spikes. Notice that the leaves of banksias vary. Return on another path to view other banksias, and birds especially the small honeyeaters so fond of their nectar.
Pleasant walking, many banksias … Barbara Daly.
---
Updated 27 August, 2008 , webmaster, ANBG (anbg-info@anbg.gov.au)
---