---
---
In Flower this Week
A weekly news sheet prepared by a Gardens' volunteer.
Numbers in square brackets [ ] refer to garden bed Sections. Plants in flower are in bold type.
21 March 2008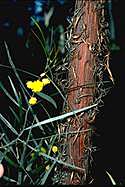 Acacia fauntleroyi - click for larger image
As the hot weather continues this walk is not very long but still with many interesting flowers to view. Banks Walk is so colourful, the purple fan flowers of Scaevola aemula [Section 210] flowing over the rock wall with the grey foliage of an emu bush, Eremophila glabra [Section 210] complete with few red tube flowers. The bright yellow open flowers of Hibbertia vestita [Section 210,174] on mounded plants are seen on both sides of the Walk while the foliage of a mint bush, Prostanthera phylicifolia [Section 210] densely covers a wall section dotted with its tubular mauve flowers.
Edging the road along the far side of the Rainforest a wattle Acacia fauntleroyi [Section 128] is attractive with fine foliage and many single yellow flower balls over the small upright tree. A dense groundcover, Grevillea 'Poorinda Royal Mantle' [Section 124] with red toothbrush like flowers covers the next corner around which Grevillea 'White Wings' [Section 124] is a large dense shrub with a profusion of feathery white flowers. Towards the next corner Scaevola albida [Section 124] creeps along the ground floriferous with small mauve fan flowers along its vines. Opposite, Melaleuca 'Hot Pink' [Section 126] is an open shrub revealing its brilliant pink bottlebrush-like flowers while Grevillea 'Diadem' [Section 126] is also a large shrub clad with coppery coloured clusters of buds and few apricot coloured spider flowers.
The yellow and cream straw flowers, Xerochrysum sp. [Section 10] are decorative below the long angular branches of Eucalyptus mannifera [Section 10]. There too is Thryptomene 'Pink Lace' [Section 10] with fine sprays of tiny pink flowers over the low shrub. Continuing uphill, a native geranium, Pelargonium australe [Section 10] is a lovely small plant clad in profusion with its geranium-like pink flower clusters. Pass by the remarkable Bottle-tree, Brachychiton rupestris [Section 302] with swollen bottle-like trunk. Opposite Pavonia hastata [Section 124], possibly an exotic plant, is a dense spreading shrub with pale pink open flowers with dark centre, falling over the rock wall. The next corner Correa alba var. alba [Section 107] is also a dense shrub with silver edged dull green leaves and white star flowers.
Before continuing to the Rock Garden, veer right to view a bottlebrush, Callistemon subulatus [Section 4] with red bottlebrush flowers over the medium shrub. Kangaroo Paws are almost finished but here Anigozanthos flavidus [Section 4] with dense strappy leaves have few fresh upright long stems with lime red 'paw' flowers – and attractive Eastern Spine Honeyeaters to enjoy the flower's nectar. Opposite, a Net Bush, Calothamnus gilesii [Section 5] has interesting loose red bottlebrush-like flowers mixing with its long pine-like leaves …another bird attracting shrub.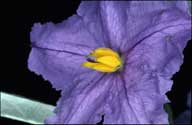 Solanum sturtianum - click for larger image
Towards the Rock Garden plants in flower include Labichea lanceolata [Section 4] with open yellow flowers with a dark spot on the petals, on an open upright shrub. In the background the open purple flowers are those of Solanum sturtianum [Section 4] while Lysiosepalum involucratum [Section 4] is a small dense shrub with dark centred pinkish mauve flowers and tan coloured buds. Close to the drinking fountain, Guichenotia ledifolia [Section 4] is a round dense shrub profuse with down-turned pink bell shaped flowers.
While here sit awhile, take in the beauty of the pool, the waterfall and surrounds. Watch the Water Dragons, Physignathus lesueurii. These semi-aquatic lizards are seen sunning on the rocks or swimming. Their size varies from large colourful adults to small brown juniors. Then maybe, return by way through the cooler Rainforest Gully.
These National Botanic Gardens, such a great place to be … Barbara Daly.
---
Updated 27 August, 2008 , webmaster, ANBG (anbg-info@anbg.gov.au)
---