---
---
In Flower this Week
A weekly news sheet prepared by a Gardens' volunteer.
Numbers in square brackets [ ] refer to garden bed Sections. Plants in flower are in bold type.
14 March 2008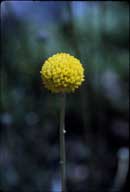 Pycnosorus globosus- click for larger image
DID YOU KNOW THAT THE BOTANIC ART EXHIBITION IS OPEN UNTIL THE 24 MARCH!
So this short walk passes by many different flowers including banksias with juvenile flower spikes. Beside the Friends Cascade seen beside the Visitors Centre Lechenaultia biloba [Section 221] has soft blue flowers over these small plants. There too Billy Buttons, Pycnosorus globosus [Section 221] has grey-green foliage and yellow globular flowers heads. Correa alba var. alba [Section 221] is a dense shrub with white star flowers in profusion.
Edging Banks Walk the purple fan flower of Scaevola aemula [Section 210] fall over the rock wall with an emu bush, Eremophila glabra [Section 210] showing off its small tubular red flowers. Behind, closer to the path above, Banksia 'Birthday Candles' [Section 210] is a dwarf shrub clad with juvenile bronze flower spikes, while edging Banks Walk, Hibbertia vestita [Section 210] is a small mounded plant with bright yellow open flowers. The wall is densely covered with a mint bush, Prostanthera phylicifolia [Section 210] with small tubular mauve flowers and the scrambling Guinea flower, Hibbertia empetrifolia [Section 210] with yet few yellow flowers. At the far corner Crowea 'Festival' [Section 174] displays its lovely pink star flowers over the open shrub. Grevillea 'Little Jess' [Section174] is a shrub of medium size with toothbrush-like pinkish-cream flowers with long red stamens mixing with the fine divided leaves.
Another section of colour is in the Ellis Rowan Garden just past the café building. Correa 'Dusky Bells' [Section 131] is a low dense shrub with many red tubular flowers among the foliage. The Native Fuchsia, Epacris longiflora [Section 131] has rows of pendent red with white mouth, tubular flowers along its wiry branches while Grevillea rhyolitica subsp. rhyolitica [Section 131] is a shrub of medium size with pendent red flower clusters. Close by the lovely pink tubular flowers of Epacris 'Nectar Pink' [Section 131] can be seen. Banksia 'Honey Pots' [Section 131] is a dwarf shrub revealing its honey coloured upright cylindrical juvenile flower spikes. Opposite a bottlebrush, Callistemon 'Splendens' [Section 240] is a large shrub bearing many scarlet flowers.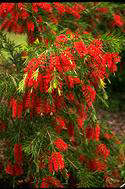 Callistemon viminalis- click for larger image
In the garden beside the Banks Building, Callistemon viminalis [Section 143] is a tall upright shrub with interesting indented trunk and willowy branches with red bottlebrush flowers. Taking the path edging the offices, Banksia spinulosa var. spinulosa [Section 131] is of medium size with dull gold juvenile flower spikes. Callistemon subulatus [Section 10] is a small shrub with pine like foliage and short red bottlebrushes. Below the grand old Eucalyptus mannifera [Section 10] the yellow and white straw flowers of Xerochrysum sp. [Section 10] are attractive. Close to the road, Hypocalymma angustifolium [Section 10] is a small plant with tiny pink feathery flowers while Pelargonium australe [Section 10] is also a small plant bright with its geranium like pink flowers. Take the path to the left leading to the Rainforest where a corner is clad with a groundcover, Grevillea 'Poorinda Royal Mantle' [Section 124] with red toothbrush like flowers mixing with the dense foliage. Almost opposite the café a wattle, Acacia fauntleroyi [Section 128] is a small upright tree with fine foliage and a scattering of yellow flower balls.
Short walk … many flowers … Barbara Daly.
---
Updated 27 August, 2008 , webmaster, ANBG (anbg-info@anbg.gov.au)
---