---
---
In Flower this Week
A weekly news sheet prepared by a Gardens' volunteer.
Numbers in square brackets [ ] refer to garden bed Sections. Plants in flower are in bold type.
29 February 2008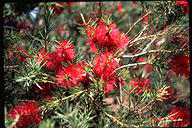 Callistemon subulatus - click for larger image
This walk follows the Main Path which wanders through the lovely white trunks of our eucalypts, the Sydney Basin Flora, the Rock Garden and the Rain Rainforest. A selection of flowers seen from this path will be mentioned.
Starting from the end of the café building passing below the papery melaleuca trunks bottlebrush Callistemon subulatus [Section 12, 10] is a low shrub with red bottlebrush flowers. Callistemon chisholmii [Section 11,10] close by is a tall picturesque shrub with pink bottlebrush flowers in profusion falling from the graceful arching branches, the flowers befriended by butterflies, bees and birds. The garden of daisies includes the yellow-orange button flowers in clusters amid the green foliage of Xerochrysum apiculatum [Section 303] while opposite in a higher garden kangaroo paws, Anigozanthos flavidus [Section 7] is colourful with the yellow and dusky red flowers.
Continuing, Grevillea treueriana [Section 30] is a small spreading shrub with sharp divided leaves and few conspicuous red toothbrush-like flowers. Banksias now bearing juvenile green or mature gold flower spikes include Banksia 'Birthday Candles' [Section 30] a dwarf spreading shrub profuse with upright maturing gold flower spikes. Behind the notice board Banksia pilostylis [Section 25] has compact mustard coloured flower spikes amid the dense foliage. The path continues with many tall mottled white eucalyptus tree trunks, mostly Eucalyptus manniferas [Sections 27, 26 and 112]. Crowea exalata [Section 112] is a small neat shrub bright with its pink star flowers.
Follow the path weaving through the Sydney Region Flora. Platylobium formosum [Section 191h] is of medium size clad with yellow pea flowers. Scaevola aemula [Section 191h] is an ageing prostrate plant bearing mauve fan shaped flowers. Almost opposite a mint bush, Prostanthera porcata [Section 191s] is an upright open shrub with cream curved tubular flowers. A shrub with pink tinted flowers can be seen later. [Section 191u]. Other shrubs include Platysace lanceolata [Section 191e] clad with clusters of small white flowers while opposite Senecio velleioides [Section 191d] is an upright herb with bright daisy-like yellow flowerheads. Geebung, Persoonia acerosa [Section 191l] is a shrub of medium size having soft pine-like foliage with terminal flower spikes.
Banksia spinulosa var. spinulosa [Section 191l] is a tall dense shrub laden with slim greenish-yellow flower spikes yet to mature to gold. Behind the circular seat Crowea saligna [Section 191u] is a low spreading shrub with fresh green foliage and bright pink star flowers. Hibbertia pedunculata [Section 191u] is a dense prostrate plant with yellow open flowers to brighten the dark green foliage.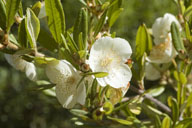 Eucryphia wilkiei - click for larger image
Cross the Eucalyptus Lawn down to the Rock Garden with many flowers to view. Straw flowers, Xerochrysum sp. [Section 15R] self-seed with bright yellow flowers. Lythrum salicaria [Section 15Q] in front of the waterfall, stand tall, still with some terminal pink flowers, while Grevillea 'Poorinda Royal Mantle' [Section 15D] a dense groundcover with red toothbrush-like flowers, flows down the rock face. Then a wander through the Rainforest Gully, so cool, green and relaxing.
The path comes out to the ramp where Eucryphia wilkiei [Section 313] can be admired. The open medium size shrubs have conspicuous cream saucer shaped flowers. A mint bush, Prostanthera phylicifolia [Section 210] of medium size, has mauve bugle shaped flowers scattered over the dense shrub and at the lower level another lovely Banksia 'Birthday Candles' [Section 210] displays its upright candle-like golden flowers.
Always another flower to find … Barbara Daly.
---
Updated 27 August, 2008 , webmaster, ANBG (anbg-info@anbg.gov.au)
---