---
---
In Flower this Week
A weekly news sheet prepared by a Gardens' volunteer.
Numbers in square brackets [ ] refer to garden bed Sections. Plants in flower are in bold type.
22 February 2008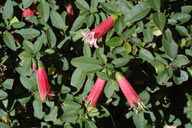 Correa 'Dusky Bells'- click for larger image
grevillea because of it wiry foliage. Its tiny pink flowers fall in sprays. At the far end of Banks Walk Crowea exalata [Section 174] is a small shrub clad with warm pink star-like flowers. Closer to the bridge, behind the noticeboard Melaleuca 'Pink Lace' [Section 60] is a small shrub clad with exquisite white with a tint of pink, lacy flowers.
Past the café in the Ellis Rowan garden, Correa 'Dusky Bells' [Section 131] is a low dense shrub with many tubular dusky red flowers. Epacris longiflora [Section 131] has rows of red tubular flowers with white mouths attached from its wiry branches while Grevillea 'Deua Flame' [Section 131] dangles its red floral clusters from its branches of medium height. Epacris 'Nectar Pink' [Section 131] is pretty with its soft pink flowers.
Follow the Main Path to view a bottlebrush, Callistemon chisholmii [Section 10] with a dense canopy of short pink flowers. The garden of daisies is yellow which includes self-seeding Xerochrysum sp. and Helichrysum semiamplexicaule [Section 303] with terminal clusters of yellow and orange small button-like flowers. The upper road is colourful with kangaroo paws, Anigozanthos flavidus [Section 7] coloured yellow and dusky red. In front a Darling Lily, Crinumsp. [Section 8] displays its spectacular white trumpet flowers on long upright stems. Banksia 'Birthday Candles' [Section 30] has many upright cylindrical maturing gold flower spikes over this dwarf spreading shrub. Grevillea acanthifolia [Section 27] has long lateral branches with stiff prickly leaves and pink tooth-brush like flowers.
Follow this downward path to view a meadow densely covered with Helichrysum rutidolepis [Section 29] with tiny yellow button flowers. Continue along this daisy-edged path turning left passing many banksias most with juvenile green flower spikes. In front are numerous waratahs, Telopea mongaensis [Section 28] with open red flowers, not so spectacular as in spring.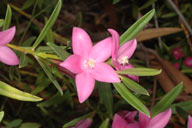 Crowea saligna- click for larger image
Follow the next road uphill which edges the Sydney Basin Section. Pass Banksia serrata [Section 112] a tall dark leafed shrub laden with large cream flower spikes. A corner with small shrubs, Crowea saligna [Section 191h] bright with its pink star flowers. Edging the road Scaevola ramosissima [Section 191h] hugs the ground with deep purple fan shaped flowers along its branches. Flannel flower, Actinotus helianthi 'Federation Star' [Section 191h] is an ageing shrub bearing velvety foliage and cream many petalled flannel flowers. Epacris sp. nov.'Evans Hill' [Section 191h] with cherry red tubular flowers edging its roaming stems. A Fringed lily, Thysanotus juncifolius [Section 191p] has few purple fringed three-petalled flowers on bare upright stems. Banksia aemula [Section 191] have many lime coloured flower spikes amid the dark green foliage of the tall dense shrubs. The perfume of Acacia linifolia [Section 191e] pervades the atmosphere from the soft cream fluffy flower balls on the medium size shrub.
An enjoyable walk … Barbara Daly.
---
Updated 27 August, 2008 , webmaster, ANBG (anbg-info@anbg.gov.au)
---