---
---
In Flower this Week
A weekly news sheet prepared by a Gardens' volunteer.
Numbers in square brackets [ ] refer to garden bed Sections. Plants in flower are in bold type.
15 February 2008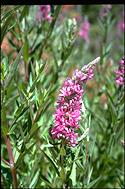 Lythrum salicaria - click for larger image
Flowers along Banks Walk are colourful. But why stop here for further a field beauty and variety continue. This walk concentrates on flowers of the Mallee Species of South Australia and Western Australia, a section up behind the old nurseries. On the way admire kangaroo paws including Anigozanthos 'Bush Glow' [Section 210] with yellow 'paw' flowers, edging Banks Walk. On the far side of the Rainforest Gully, a corner of Grevillea 'Poorinda Royal Mantle' [Section 124] is a dense groundcover with red toothbrush-like flowers while behind, tall and graceful, bottlebrush Callistemon 'Howie's Fire Glow' [Section 124] has fiery red, speckled with yellow bottlebrush flowers. A pink bottlebrush, Callistemon 'Glass House Country' [Section 110] can be viewed from the road close to the Rock Gardens where Lythrum salicaria [Section 15Q] in front of the waterfall is noticeable with its pink flower spikes. Passing some wattles including Acacia oshanesii [Section 3] a tree with dark foliage and lemon perfumed fluffy flower balls to the beginning of this walk.
The road opposite the mallee section is edged with ground covers which include Chrysocephalum apiculatum [Section 300] with either green or grey foliage and clusters of small orange-yellow flower heads and Brachyscome multifida 'Breakoday' [Section 300] with small mauve daisy-like flowers. Opposite, emu bush Eremophila ionantha [Section100B] is a small shrub with lilac coloured bugle shaped flowers while, at the entry to the mallee section, Maireana sedifolia [Section 100B] is interesting with its grey branches clad with very small grey fleshy leaves. Eremophila warnesii [Section 100B] is almost prostrate with thick grey hairy stems and leaves and usually one large terminal bugle shaped flower.
Entering the boardwalk in an anticlockwise direction another emubush, Eremophila christophorii [Section 100A] is an open upright plant with slender branches tipped with smaller mauve bugle shaped flowers. Myoporum turbinatum [Section 100B] is an upright shrub with tiny pink, almost white flowers edging the stems. Hemiandra pungens [Section 100A] is a prostrate plant with bright pink flowers, seen at the base of Eucalyptus cosmophylla [Section 100A]. Eremophila bignoniiflora x polyclada [Section 100B] has long rambling branches with large bugle flowers coloured pale mauve with deeper lips and speckled throat while the floral emblem of Northern Territory, Sturt's Desert Rose, Gossypium sturtianum [Section 100B] presents its hibiscus-like purple-mauve flowers amid the greenery.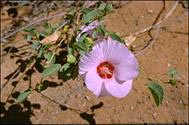 Gossypium sturtianum - click for larger image
Past the U-bend Banksia epica [Section 100A] is displaying its juvenile green flower spikes amid the spent grey spikes over the dense shrub. Verticordia monadelpha [Section 100A] is colourful with its coverage of pink frilly flowers mixing with its deep red buds over an upright shrub. Hypocalymma angustifolium [Section 100A] is a small shrub clad with pale pink lacey flowers clustered along the terminal branches. At the exit, Lambertia ericifolia [Section 100C] is a many branched tall shrub bright with well-designed orange-red flowers. At its base Marianthus paralius [Section 100C] has trailing stems with succulent green leaves and red tube flowers. Across the road the large Banksia ericifolia [Section 103] is displaying its golden flower spikes while behind a glimpse of the reddened calyces, resembling flowers, of the NSW Christmas Bush, Ceratopetalum gummiferum [Section 103] can be seen.
Well worth the walk … Barbara Daly.
---
Updated 27 August, 2008 , webmaster, ANBG (anbg-info@anbg.gov.au)
---