---
---
In Flower this Week
A weekly news sheet prepared by a Gardens' volunteer.
Numbers in square brackets [ ] refer to garden bed Sections. Plants in flower are in bold type.
8 February 2008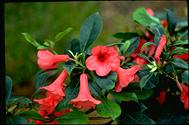 Rhododendron lochiae - click for larger image
Walking in these Gardens in the rain is a rare occasion. All is green and fresh and this walk has those conditions. Opposite the Visitors Centre doors the vivid red bugle flowers of Rhododendron lochiae in a pot are still magnificent and the Pandorea jasminioides with its pink trumpet-like flowers continue to decorate the vine as it climbs the wall opposite. Edging Banks Walk Grevillea tripartita [Section 210] displays its fascinating red and yellow flowers with long protruding styles, on the bare terminal branches reaching towards the path.
Taking the path on the far side of the Rainforest Gully, Grevillea 'Poorinda Royal Mantle' [Section 124] is a dense groundcover speckled with deep red toothbrush-like flowers. Grevillea 'Goldfever' [Section 124] with apricot coloured spider-like flowers over this low spreading shrub. Lemon ironwood, Backhousia citrodora [Section 78] is tall and well clad with golfball size clusters of feathery cream flowers. Edging that right path, Eucryphia wilkei [Section 109] is an open low shrub displaying its many saucer-shaped open cream flowers while edging the path entering the Rainforest Gully, Conjevoi Lily Alocasia macrorrhizos [Section 114] is a large fleshy herb with very large leaves surrounding the arum lily like cream-greenish flower, all on long thick stalks. Behind it is a small tree Caldcluvia paniculosa [Section 114] attractively decorated with pendulous heads of tiny red fruits which followed its white flowers.
Gahnia clarkei [Section 78] is a large sedge with long narrow sharp edged leaves with black flower heads, used in dried flower arrangements. Lythrum salicaria [Section 78] has spikes of terminal pink flowers amid its long narrow leaves and seems to dominate this corner. In the triangular garden opposite the kangaroo paws include Anigozanthos 'Bush Dawn' [Section 17] with heads of yellow 'paw' flowers and Anigozanthos 'Bush Ruby' [Section 17] with dark red flower heads. Smaller plants include Dampiera linearis [Section 17] a suckering plant with blue flowers along its trailing stems while edging the road, Brachyscome 'Breakoday' [Section 17] with pink flowers among the dwarf soft foliage. In the garden centre Hibbertia kaputaraensis [Section 17] is bright with its yellow flowers over the small rounded shrub.
Around the top corner the brilliance of Chrysocephalum apiculatum [Section 17] with its small orange-yellow button size flowers on long stems. Chamelaucium 'Cascade Brook' [Section 17] is a Geraldton Wax cultivar with soft pink waxy flowers mixing with many buds. Opposite, edging the Rainforest, Leptospermum amboinense [Section 104] has tiny white flowers edging its willowy branches. Beside is Hibiscus splendens [Section 104] an upright shrub with furry grey- green leaves and lovely cherry red flowers. Continuing uphill the perfumed wattle, Acacia melanoxylon [Section 140] is a large tree with a coverage of cream fluffy flowers.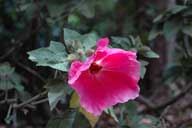 Hibiscus splendens - click for larger image
At the next corner with steps to the right, Banksia speciosa [Section 36] is a shapely shrub with long lateral branches displaying its upright acorn designed cylindrical greenish-cream flower spikes among its aging dark spikes and with long narrow deeply indented leaves. Other banksias from this path include a grouping of large dense Banksia serrata [Section 36] dotted with many large cream flower spikes. Edging the path Banksia media [Section 36] is a quite an old low shrub here but with dense mustard coloured flower spikes. Particularly in this area, the self-seeding Xerochrysum sp. display its yellow straw daisies, closed today because of the rain. For rain or sunshine the covered shelter is a place to sit and enjoy the surrounding beauty of these gardens.
Rain, rain, beautiful rain … Barbara Daly.
---
Updated 27 August, 2008 , webmaster, ANBG (anbg-info@anbg.gov.au)
---